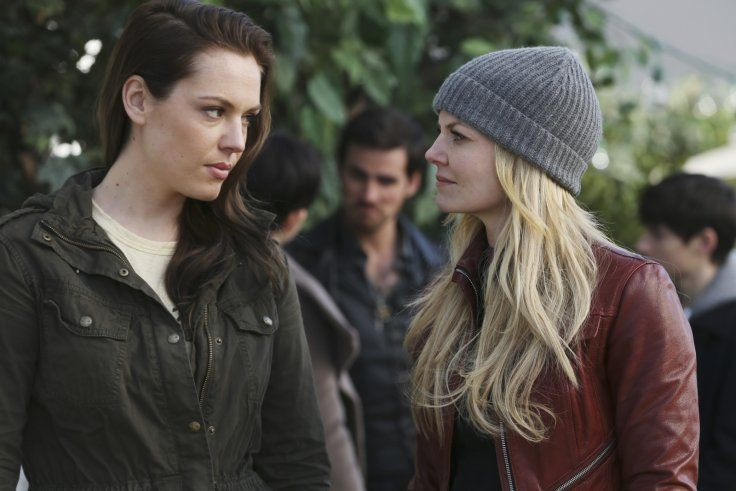 Tonight is a brand new episode of "Once Upon a Time" on ABC and Maleficent (Kristin Bauer van Straten) may get her revenge on the Charmings after all. Even more surprising it looks like Lily (Agnes Bruckner) is still on her rampage and will help her mother take down the heroes for their past dark deeds. Fair warning this article contains spoilers, continue reading at your own risk.
In last week's episode "Lily" we got some background info regarding Maleficent's daughter. Zelena's (Rebecca Mader) deception was unconvered but it was revealed that the Wicked Witch was pregnant with Robin Hood's (Sean Maguire) baby! Furthermore it was revealed that Lily knows everything and her ultimate plan is to get into Storybrooke to exact revenge on Snow (Ginnifer Goodwin) and David (Josh Dallas).
While it looked like Lily may have put aside her revenge plans for the Charming's, it was only temporarily. In the promo trailer for "Mother" after Lily and Maleficent are reunited the two sit and plot their revenge. We also see Lily's eyes glowing with power and we are shown a brief clip of Snow, Emma (Jennifer Morrison) and Charming fighting a dragon. Check out the promo video below along with the episodes synopsis.
The TV Guide description for "Mother" reads: "Emma brings Lily to town to meet Maleficent. Meanwhile, Gold's (Robert Carlyle) health worsens; Isaac seeks a new means of obtaining magic ink; Regina (Lana Parrilla) and Robin confront the problems Zelena's pregnancy poses; and back in fairy-tale land, Cora asks Regina for forgiveness."
There are a couple of ways to watch "OUAT" tonight! The first is to tune in live on ABC at 8/7c. But if for some reason you can't watch on TV, ABC will stream the episode live via your computer on ABC's website here! This service is available based on your location and if you qualify you have access to the episode during its air time and can watch live. A third option is to download ABC's mobile app, Watch ABC, for iOS and Android and watch on the go.
You can also purchase the episode for about $2 from iTunes, Google Play, Xbox Video, Amazon Instant Video and more. Or if you are a Hulu Plus subscriber you will have access to the video the day after it airs and can watch for free!
© 2023 Latin Times. All rights reserved. Do not reproduce without permission.