A delightful video of a mother bear playing football with her cub in the jungle has gone viral on social media.
The 1.02-minute video was recorded on Sept. 11, from Nabarangpur district in India's Odisha.
The video was captured by some boys from the Sukhigaon village who were playing football in the jungle.
During the game, the boys encountered the mother bear and her cub.
Frightened by the sight, the boys ran away leaving the ball behind. As they watched from a distance, the boys witnessed one of the most unexpected incidents.
The bears did not chase or attack the boys but began playing with the ball instead. While the boys watched in amazement, the mother bear kept tossing the ball back and forth with her cub.
The bears appeared to be having a fun time with the ball, running after it and kicking it back to each other. They later disappeared into the deep forest with the ball.
Officials from the forest department said playing with the ball was an instinct for the animals.
"They examine and try to find out the nature of any object that they find for the first time," the divisional forest officer said.
The video, posted by ANI, has gone viral on social media. The video has garnered over 34,000 views and 1,800 likes to date.
Another viral video from India showed a young boy effortlessly sitting in a pot of boiling oil.
In the 30-second clip, a little boy can be seen calmly sitting with folded hands inside a large pot of oil placed on the fire.
"This is 2021 India," tweeted user @iSandeepBisht while sharing the viral clip, which has now garnered over one lakh views.
While the onlookers in the video seem both shocked and amazed by the stunt, netizens were quick to notice the trick and call the video fake.
"The Water boils evenly on every side. Watch the flowers on the backside and left-right don't even move?"
"The bottom of Pot shud be enough thick not to let heat in easily. A pump has been used in front to make the water look like boiling. India 2021 Still fooling People," a netizen wrote.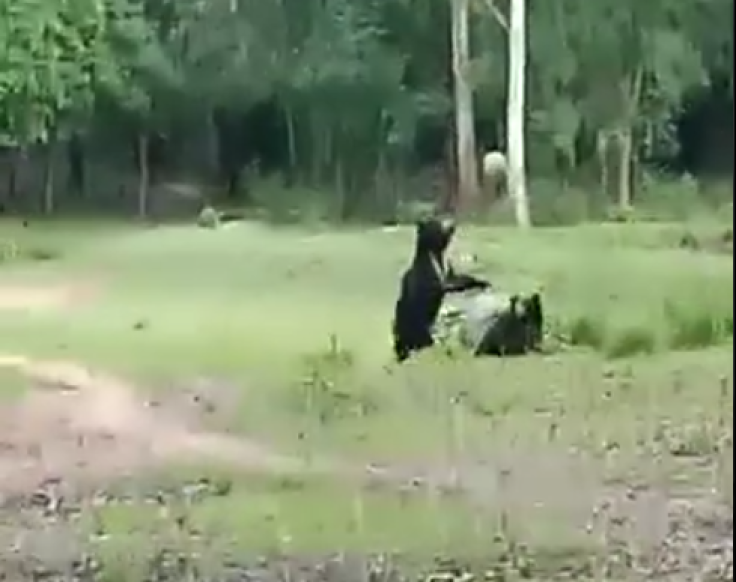 © 2023 Latin Times. All rights reserved. Do not reproduce without permission.