An old video of a young boy effortlessly sitting in a pot of boiling oil is currently making rounds on the internet. The video has gone viral on social media, with many calling it fake.
In the 30-second clip, a little boy can be seen calmly sitting with folded hands inside a large pot of oil placed on the fire.
Despite the oil boiling in the vessel, the child seems completely unaffected by the heat. "This is 2021 India," tweeted user @iSandeepBisht while sharing the viral clip, which has now garnered over one lakh views.
While the onlookers in the video seem both shocked and amazed by the stunt, netizens were quick to notice the trick and call the video fake.
While one user explained that the tricksters used a water pump to create the illusion of boiling water, another stated that it was a magic trick with a simple scientific explanation.
"The Water boils evenly on every side. Watch the flowers on the backside and left-right don't even move? The bottom of Pot shud be enough thick not to let heat in easily. A pump has been used in front to make the water look like boiling. India 2021 Still fooling People," a netizen wrote.

"This is cheating of the highest order..no way that there is no steam being produced or the petals not being disturbed in the pot," wrote another.

A longer version of the clip was posted on YouTube in 2019 along with a caption that read, "Boy sitting in a bowl filled with boiling water with fire under it."
One user wrote: "Hahahahaha...Water or fluid is boiling only in the front, not in the back. Partial boiling. That's a wonder!"
"These sort of things were happening before 18 century in India, then later science exposed these tricks, and again we are turning towards 18 century in new India," wrote another.
"As the north of India is already high on religiosity, anything would go when scientific temper is denied by the supreme leader himself. My silence to Rajaram Mohanrai, Phule, Nehru, Dhaboalkar, and many who tried hard...but failed," a third user wrote.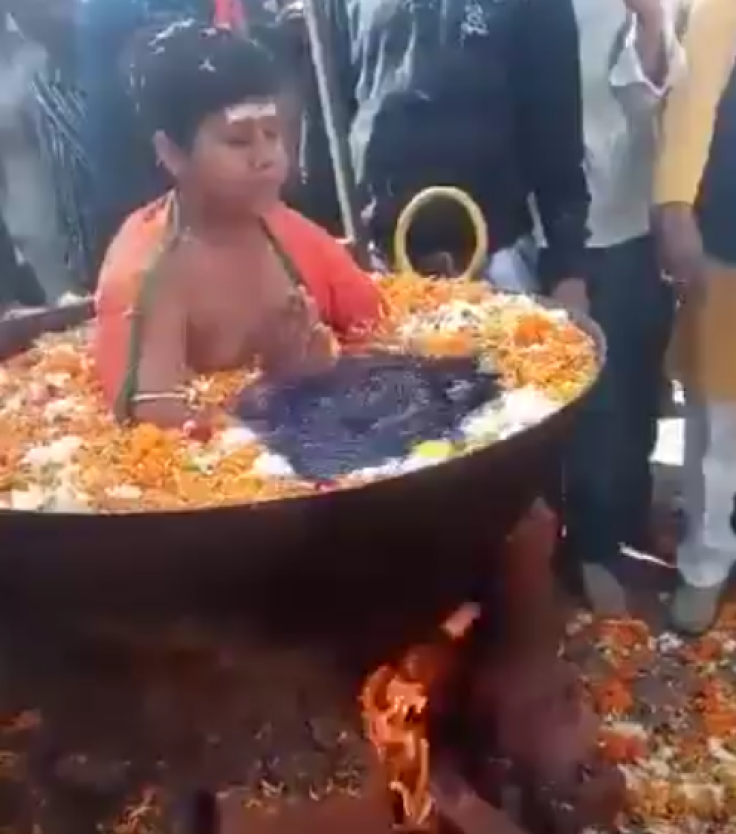 © 2023 Latin Times. All rights reserved. Do not reproduce without permission.