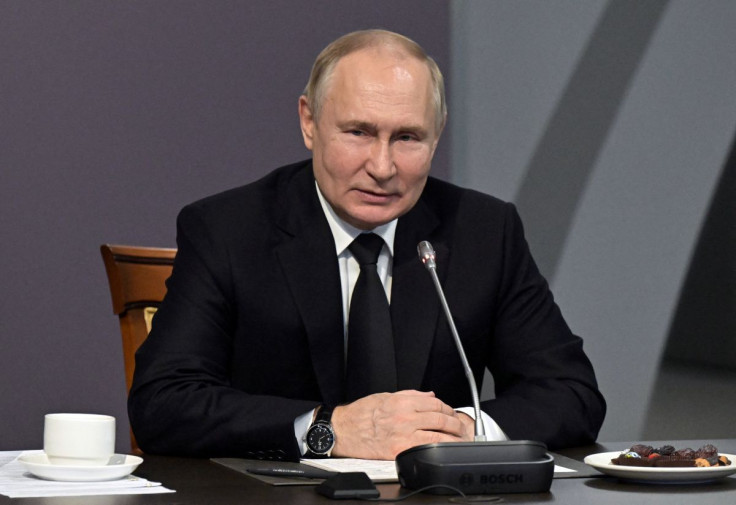 In an interview with the Guardian, Nato's secretary general cautioned that Vladimir Putin has no immediate intentions for peace in Ukraine and that the west should prepare to continue providing lethal assistance to Kyiv for a very long time.
The president of Russia is engaged in "a war of attrition", Jens Stoltenberg said, adding that he wanted Nato members to agree that spending 2% of GDP on defense as a minimum at the alliance's next summit, in the Lithuanian capital, Vilnius.
The heavy battle in eastern Ukraine, which is currently centered around Bakhmut, shows that Russia is prepared "to just throw in thousands and thousands more troops, to take many casualties for minimal gains," the Nato head said.
"President Putin doesn't plan for peace, he's planning for more war," Stoltenberg continued, adding that Russia was increasing military-industrial production and "reaching out to authoritarian regimes like Iran or North Korea, and others to try to get more weapons".
Because of this, the U.S., Britain, France, Germany, and other western nations have to be ready to provide Ukraine with weapons, ammo, and spare parts for a considerable amount of time.
Currently, the fighting was so fierce that Ukraine's use of artillery shells, 4,000 to 7,000 a day to Russia's 20,000, was outrunning western manufacturing, The Guardian reported.
EU nations decided to give Ukraine a million rounds of shells, or around six months' worth of ammunition, earlier this week. Stoltenberg stated that he wants Nato countries to be ready to invest more money to stop Russia's incursion.
Only seven of Nato's 30 member states, the U.S., Britain, Poland, Greece, and the Baltic States, met the current defense spending target of 2% of GDP in 2022, according to the organization's annual report, which was released on Tuesday. Germany at 1.49% and France at 1.89% both fell short, despite both having promised increases.
"At our summit in Vilnius in July, I expect allies to agree a more ambitious new defense investment pledge, with 2% of GDP as a minimum to be invested in our defense," Stoltenberg said at the time of the report's publication – a commitment that insiders emphasized he expected all members to agree to.
Equally important, the Nato head said, would be to dissuade China from supplying arms to Russia, also running short on key munitions.
China, whose leader, Xi Jinping, visited Moscow earlier in the week, has been told by Nato members that there would be "consequences" if it supplied lethal aid to Moscow.
A sincere effort by China to act as a mediator in the conflict must be accompanied by an attempt "to understand Ukraine's perspectives", the Nato chief said, and to "engage with President Zelenskiy directly".
He praised any attempt at bringing about peace but lamented the fact that Beijing had not yet denounced the Russian invasion.
Stoltenberg believes the west had contributed enough military equipment, including tanks, fighting vehicles, and rocket artillery, "to enable the Ukrainians to retake territory to liberate more and more and more land" seized by Russia after the initial invasion in February 2022.
He emphasized that the objective was "to enable the Ukrainians to launch an offensive and to retake territory," but noted that Nato was not a party to the conflict and that alliance members were free to decide whether to provide weapons and leave them to Ukraine's commanders to make battlefield calculations.
But the Nato head did not rule out member states going further by sending F-16s or other western jets to Ukraine, after an emotive "wings for freedom" plea by its president, Volodymyr Zelenskiy, in February.
This month Poland and Slovakia agreed to give 17 Soviet-standard MiG-29s, but the total available numbers are small.
"We should continue to address the need for more capabilities," Stoltenberg said, highlighting that despite an initial apparent refusal by the U.S. president, Joe Biden, to release the U.S.-made fighters, "there has not been made any decisions on F-16s".
Former Norwegian Prime Minister Stoltenberg announced his intention to resign in October after nearly nine years on the job and three extensions of his term.
© 2023 Latin Times. All rights reserved. Do not reproduce without permission.