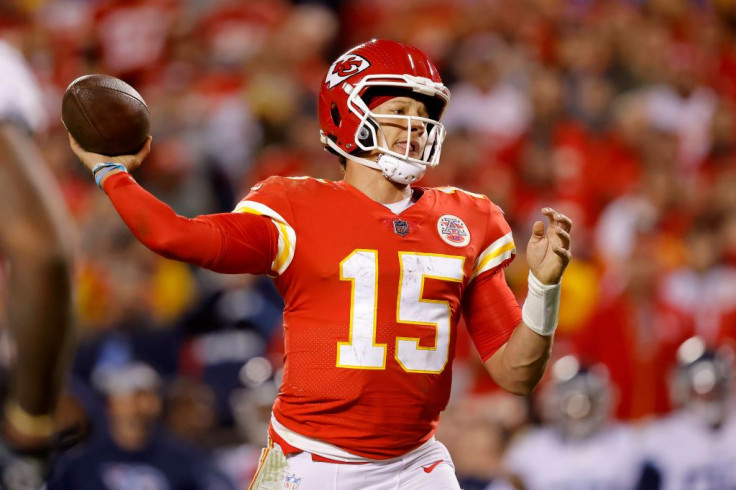 NFL Week 9 set records in various departments, particularly in the quarterback position. Both rookies and veterans were involved. Here is a list of the record-breaking performances that took place this past Sunday.
Mahomes Spreads The Field
Patrick Mahomes etched his name once again in the NFL record book, this time becoming the first quarterback to pass for 400 yards or more and rush for 60 yards or more. Plus, he became the first to pass for a touchdown and rush for one in a single game. Then he orchestrated a second-half comeback in the Kansas City Chiefs flag-riddled 20-17 victory over the Tennessee Titans on Sunday Night Football.
The sixth-year veteran's record breaking performance also included another mileston: setting the NFL record for most passing yards in his first 75 games as a starter, surpassing Matthew Stafford, quarterback for the Los Angeles Rams. Mahomes also threw for a career-high 68 attempts and completed 43 passes, both a career-high for the Chiefs quarterback in Sunday's win over the AFC South Division leader.
Justin Fields Ground Assault
Despite having an ineffective passing attack, Chicago Bears quarterback Justin Fields rushed for 178 yards, setting a new NFL record previously held by former Atlanta QB Michael Vick's 173-yard performance against the Minnesota Vikings in 2002. Fields and the Bears came up short in the 35-32 loss to Tua Tagovailoa and the Miami Dolphins.
Tom Brady is at it again
Tampa Bay Bucs quarterback Tom Brady reintroduced his late-game magic to the NFL, in Sunday's 16-13 victory over the Los Angeles Rams. A 1-yard touchdown pass to tight end Cade Otton capped off Brady's 55th career game-winning drive, breaking the previous record (54) set by retired great Peyton Manning.
Brady became the first NFL quarterback to rack up 100,000 career yards, surpassing the milestone on a 15-yard pass to Leonard Fournette in the first quarter of the game, as the Buccaneers snapped a three-game losing streak.
© 2023 Latin Times. All rights reserved. Do not reproduce without permission.