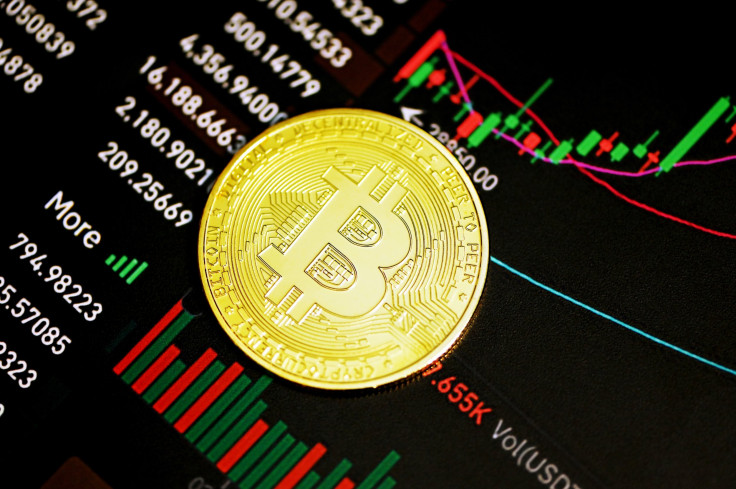 Latin American countries and the U.S. are using cryptocurrency for different purposes, but their main economies are among those with the most grassroots adoption at a global level, according to a new report by research firm Chainalysis.
While the U.S. and Brazil see a more institutional use and store-of-value purchases, many Argentines and Venezuelans are resorting to digital assets to deal with their respective inflationary regimes. In Mexico, meanwhile, they are showing a relevant role when it comes to sending remittances.
The report shows that the region is seventh in size, only behind Sub-Saharan Africa, and that the situation hasn't changed much in the past two years. However, three Latin American countries are in the top 20 of Chainalysis' Global Crypto Adoption Index: Brazil (ninth overall), Argentina (15), and Mexico (16). The U.S. is in 4th place.
Kim Grauer, Director of Research at Chainalysis, analyzed the situation in the region: "We have always seen high adoption of cryptocurrency throughout Latin America for a number of reasons that might not be as prominent in North America. Capital controls and high inflation in Argentina–as well as hyper-inflation in Venezuela–are examples of some economic variables unique to some LATAM countries. We do, however, notice similarities between the two regions. There is high institutional adoption in Brazil and in the United States, and broadly, people use crypto as a store of value", she told the Latin Times.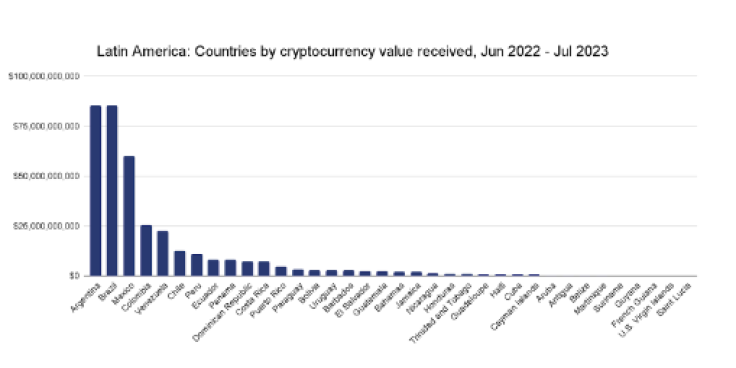 Brazil has a less-turbulent economy than Argentina and Venezuela, and that is reflected in the assets their nationals buy. "The data suggests that demand for the stablecoin USDT is much higher in Argentina than in Brazil — this is almost certainly due to the currency devaluation Argentina has faced of late. Argentina leads Latin America in raw transaction volume with an estimated $85.4 billion in value received, and is second in the region for grassroots adoption. Meanwhile, Brazilians display a higher demand for Bitcoin and especially altcoins, which are more typically used for long-term investment and speculation", reads a passage of the document.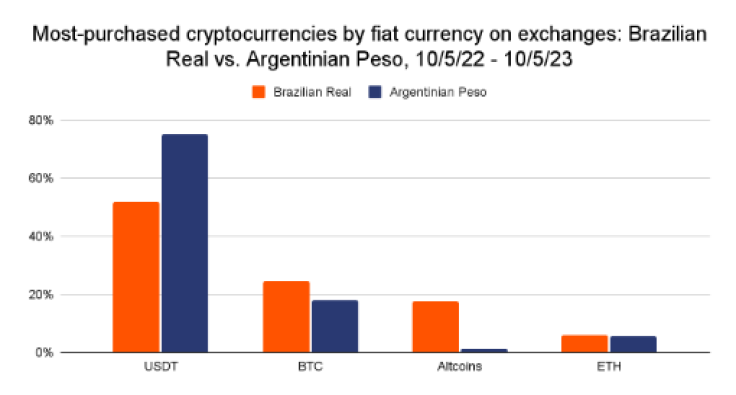 Venezuela's case is similar to Argentina's. "Cryptocurrency, particularly stablecoins, has helped many Venezuelans" deal with hyperinflation, opposition leader Leopoldo Lopez told Chainalysis. He also highlighted crypto's role in "in enabling remittances to Venezuela, which have become increasingly important to the country in the last few years."
When analyzing the situation in Mexico, the report focuses on remittances, highlighting that the country is the world's second-biggest receiver of them, with an estimated $61 billion flowing into the country from overseas per year, mostly from the United States. Daniel Vogel, CEO of Mexican exchange Bitso, told Chainalysis that his company processed over $3.3 billion in crypto remittances sent from the U.S to Mexico in 2022, which would represent 5.4% of the total market
"Industry participants will likely be interested to see if that share rises in the coming years, both for Mexico and other Latin American countries with large remittance markets", the report concludes.
© 2023 Latin Times. All rights reserved. Do not reproduce without permission.