As the COVID-19 pandemic takes its toll on countries across the globe, one person has become Donald Trump's trusted voice in the United States: Dr. Anthony Fauci. Since the beginning of the global health crisis, Dr. Fauci, U.S. director of the National Institute of Allergy and Infectious Diseases, has become a reassuring foil to the U.S. president at COVID-19 briefings, lending his voice to translate complex medical information and rectifying Trump's outrageous statements about the disease.
Here are five facts about Dr. Anthony Fauci you need to know:
Outbreaks are not new to him
For more than three decades, Dr. Fauci has handled several outbreaks, including SARS, MERS, Ebola, and anthrax attacks. He was first appointed as director of the National Institutes of Allergy and Infectious diseases in 1984, when the U.S. was in the throes of the AIDS crisis.
He helped shape Trump's initiative to end HIV in the U.S.
Dr. Fauci was one of the first to educate American scientists about HIV and was instrumental in the completion of Surgeon General C. Everett Koop's famous 1986 report about AIDS. Thanks to his extensive knowledge about the disease, the Trump administration's initiative to end HIV in the U.S. was able to take shape.
He worked as a key adviser under six administrations
Before Dr. Fauci even got to work with Donald Trump, he had served as a key adviser on national health crises under five other administrations. Ronald Reagan was the president when he was appointed at the National Institutes of Allergy and Infectious Diseases. George H.W. Bush, Bill Clinton, George W. Bush, and Barack Obama also used to be his political bosses.
He has often dissented with Trump's claims about COVID-19
Although he currently is Trump's go-to representative when it comes to matters of the coronavirus pandemic, Dr. Fauci doesn't mind being at odds with the president sometimes. In fact, during coronavirus task force briefings at the White House, Dr. Fauci often corrects Trump's claims pertaining to the disease.
The U.S. citizens trust him
Today, U.S. citizens consider Dr. Fauci as the nation's top infectious disease expert. He has done a tremendous job at educating people about the coronavirus pandemic that he has earned the respect of both Democratic and Republican legislators. Because of his him, Trump's administration has been able to take stronger action against COVID-19 and see its approval ratings rise.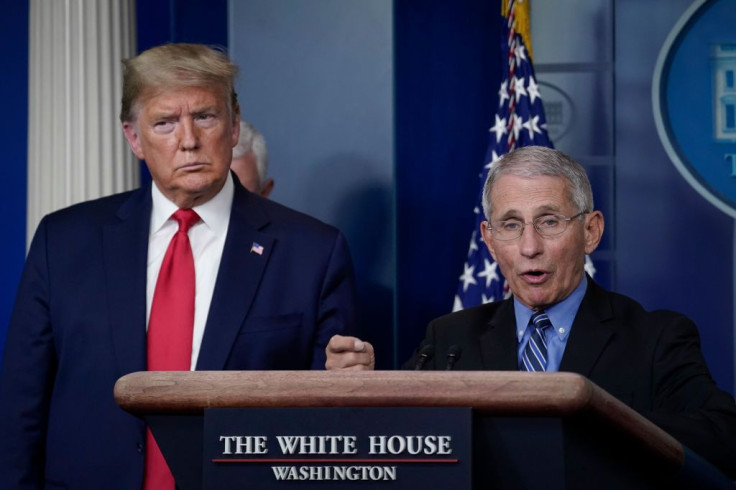 © 2023 Latin Times. All rights reserved. Do not reproduce without permission.