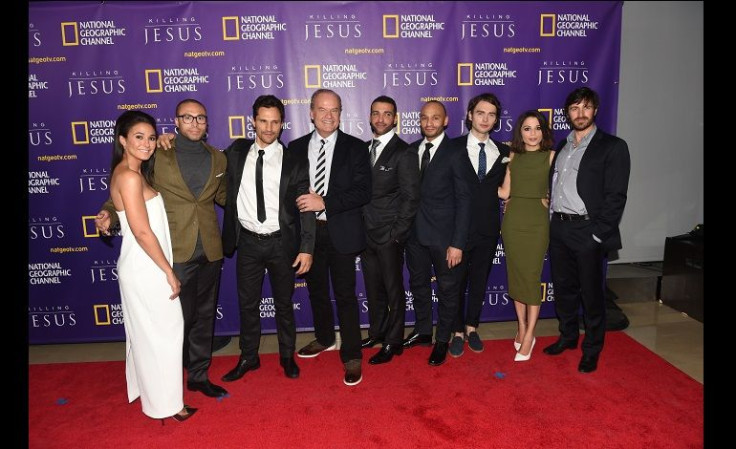 Nat Geo Mundo's 'Quién Mató A Jesús', is a three-hour television event, will premiere on Palm Sunday, March 29, at 9 p.m. ET/PT on Nat Geo Mundo in the United States, globally in 171 countries in 45 languages andin English on National Geographic Channel.The red carpet premiere was this week in New York City at the Alice Tully-Hall, Lincoln Center. The leading cast attended of course Kelsey Grammer (Partners, Boss) as King Herod the Great, Stephen Moyer (True Blood) as Pontius Pilate, Haaz Sleiman (The Visitor) portrays the title character Jesus, Rufus Sewell (Hercules) as Caiaphas, John Rhys Davies (Indiana Jones) as Annas. Quién Mató A Jesú is a story nearly the whole world knows, with more than 2.2 billion people around the globe following the teachings and principles of Jesus of Nazareth.
But the intimate historical details of his life and the political collusions that led to his brutal demise bring intriguing context to the familiar story. Nat Geo Mundo's Quién Mató A Jesús, produced by Scott Free Productions and based on the New York Times best-selling book by Bill O'Reilly and Martin Dugard, dives deep inside the historical story of how Jesus' message and preachings led to his persecution and execution by a group of conspirators who saw him as a threat to their power.Combining epic cinematography with intimate storytelling, Quién Mató A Jesús was shot entirely in the Moroccan desert with a crew of 250 and more than 4,500 extras. The 93 speaking roles are brought to life by an incredibly diverse cast, with actors representing Lebanon, Morocco, Czech Republic, Ireland, Great Britain, Israel, Canada, Syria, Australia and the United States. The massive production, unlike anything undertaken by National Geographic Channel before, puts familiar Biblical characters under a new lens to give them layers of meaning rarely explored before.
Quién Mató A Jesús begins in the era of Jesus' birth, with King Herod the Great ruling Judea, but feeling uneasy about potential threats to his power. This uneasiness leads Herod to order the murder of all boys under age 2, but a young Jesus and his family have already escaped. Moving 26 years into the future, we follow Jesus as he starts to develop and spread his message and begins to amass a following of devout believers. At the same time, new political players, including Herod's son Antipas and Roman-appointed ruler Pontius Pilate, find themselves troubled by the growing influence of Jesus, while leaders in the Jewish Temple, Caiaphas and Annas, question his teachings and methods.Through collusion, conspiracy and influence, Jesus is eventually arrested, in part due to the betrayal of one of his disciples, and crucified. He is buried in an unguarded tomb, and when mourners return several days later to anoint his body, the body is missing.
© 2023 Latin Times. All rights reserved. Do not reproduce without permission.