A blonde female soldier has been spotted in photographs with Russian President Vladimir Putin after the leader honored her during his New Year's message. The photos have been recently popping up showing the woman disguised as an ice cream vendor, a Christmas parishioner and a fisherman.
According to the Mirror, media outlet Sibir Reali reported via social media app Telegram that the blonde female was regaled by Putin during his holiday broadcast and was seen dressed in fatigues as she stood next to the president. She was said to be a regular fixture whenever the president needed to make his rounds of public appearances. Previously identified as Larisa Sergukhina, Sibir Reali said she was captured in photos with Putin in September 2016 while the president was on a lake in the Novgorod region, The woman was then disguised as a fisherman.
In 2017, when Putin attended an Eastern Orthodox Christmas service in the Novgorod monastery, the woman was spotted among a group of parishioners surrounding Putin. Two of the fishermen in the lake photo were also seen posing as parishioners. The blonde soldier was also captured on camera in two other instances selling ice cream to Putin during an air show in Moscow. In 2019, it was reported that Putin paid the blonde ice cream vendor about $60 and told her to hand over the change to the air minister for further development of aviation.
Kremlin observers speculated that the blonde woman was more than likely part of Putin's protective detail and often assigned to work undercover to assist the president as he mingled with the public. During the New Year's broadcast, the same woman was seen standing behind Putin alongside supposed comrades dressed in army fatigues as Putin addressed the public. The woman's identity has now been confirmed as Captain Anna Sidorenko, a decorated senior captain in the Russian army medical service.
The 70-year-old Russian leader has been continuously accused of employing actors to pose as his soldiers and his New Year's public broadcast was not any different in the eyes of his detractors. Most have pointed out that his entourage of soldiers has appeared in a number of earlier propaganda videos.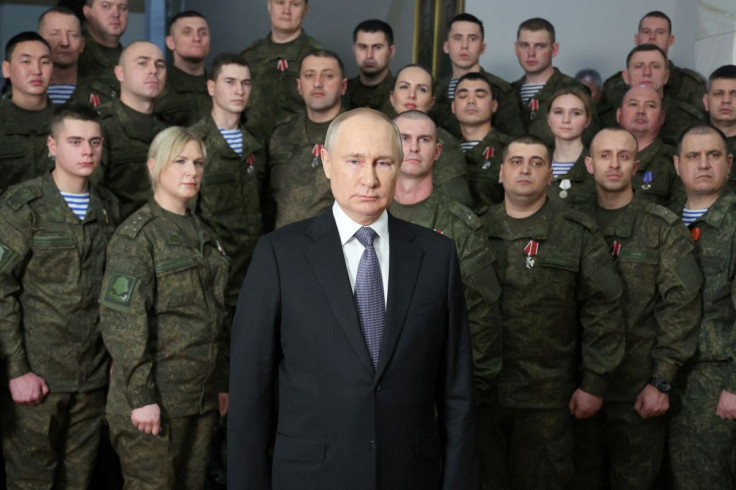 © 2023 Latin Times. All rights reserved. Do not reproduce without permission.