Many Twitter users couldn't stop commenting on President Joe Biden's "creepy" interaction with the press during a conference on Thursday.
The press conference was held at the White House where he shared his opinions on the announcement that a bipartisan group of senators came to a tentative deal on an infrastructure bill, reported Fox News. Throughout the conference, he repeatedly leaned over the podium and whispered while answering reporters' questions.
A compilation video of the press conference was tweeted. Soon, the hashtag "Creepy Joe" started trending on Twitter with a few lawmakers like Republican Representatives Andy Biggs, Arizona, and Claudia Tenney, New York, commenting on how "creepy" the president was being.
"Creepy" Joe just took on a new meaning," Biggs tweeted.
Tenney wrote, "Creepier than creepy. Yuk!" She additionally tweeted: An arrogant guy using a condescending whisper to legitimate questions from media."
Meanwhile, Biden on Thursday said that the US has not been so divided since the days of the Civil War and hinted that former President Donald Trump was to blame, according to Fox News.
"The third reason I was running (for president) was to unify the country. Well, folks, it's never been as divided as it is today, never been as divided as it is today since the Civil War," Biden said in Raleigh, North Carolina where he was encouraging residents to get vaccinated.
"And folks, it's such a waste of talent. It's such a waste of time. And the rest of the world is looking at us. The rest of the world is wondering, can we really lead the world again?" He then spoke about his predecessor. "The last four years have been devastating to our leadership around the world," Biden said.
Biden urged youngsters, in particular, to get Covid vaccines. "I call for June to be the month of action to get folks vaccinated so we can all enjoy the Fourth of July with our independence from the virus," he said.
The White House's goal is to have 70% of Americans with at least one Covid shot by Independence Day. However, the goal will likely be missed. White House COVID-19 senior adviser Jeffrey Zients said it would likely take a few weeks beyond July 4 to meet Biden's target. "The country has more work to do... particularly with 18- to 26-year-olds," he told reporters.
Biden also said that the reason it had been more difficult to convince African-Americans to get vaccinated initially is that "They're used to being experimented on. It's awful hard as well to get Latinx vaccinated. Why? They're worried that they'll be vaccinated and deported."
Biden shared that the Delta variant, which is currently the most common form of Covid in the US, is "more easily transmissible" and "potentially deadlier and especially dangerous to young people."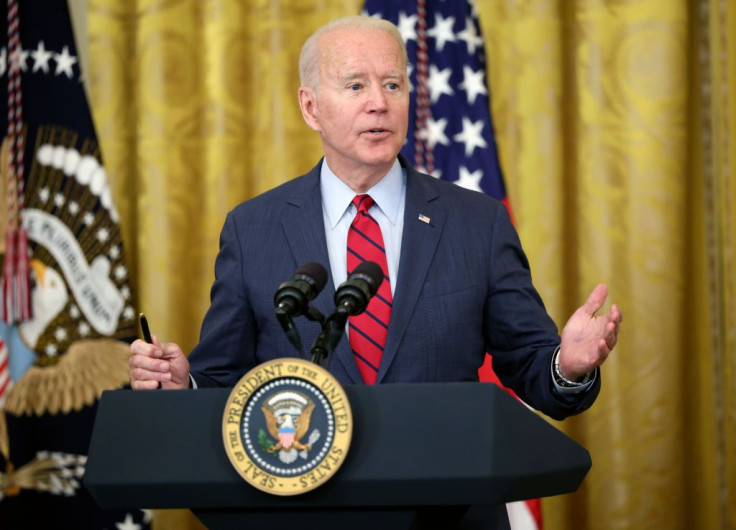 © 2023 Latin Times. All rights reserved. Do not reproduce without permission.