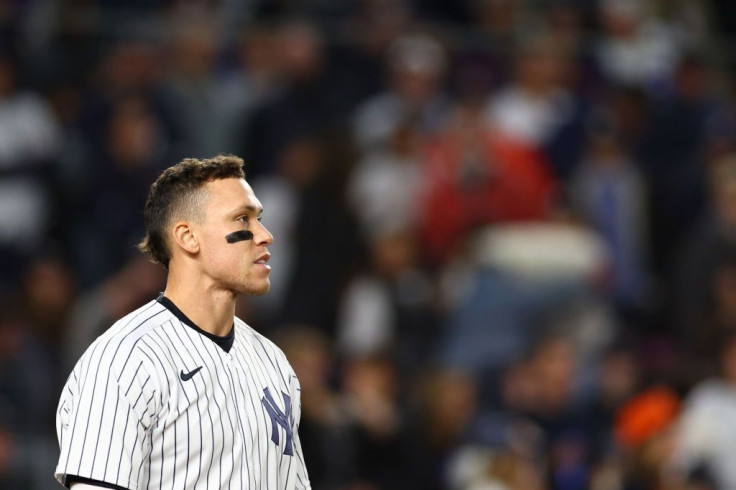 MLB Free agency kicked off on Thursday, and there's a lot of top-end talent available. From Aaron Judge to Justin Verlander, a number of big names could be exchanging teams this winter.
Here's a look at the top 10 MLB free agents:
Aaron Judge, OF, New York Yankees (30 years old)

The Bronx's star outfielder is up for free agency and tops the list. After all, Judge had a historic season that saw him shatter the American League home run record with 62 and nearly win the Triple Crown award. He's going to be due a massive contract and one that is well-deserved.
Jacob DeGrom, SP, New York Mets (34 years old)
Arguably the best pitcher in the game when healthy, DeGrom's free agency has some question marks due to his age and injury concerns. He's certainly looking to be the game's highest-paid pitcher and it sounds like his likely destination will be one of either the Mets, Braves, or Rangers.
Trea Turner, SS, Los Angeles Dodgers, (29 years old)
One of the best all-around players in the game, Turner will hit free agency looking for a long-term deal. Turner has already been rumored to want to join the Phillies after their World Series run. Expect Turner to be one of the hottest names on the market.
Carlos Correa, SS, Minnesota Twins, (28 years old)
The star shortstop from Puerto Rico opted out of his contract to become a free agent this season. A reunion with Minnesota is in the cards, per his agent, but at age 28 expect him to seek out a long-term deal that provides him with security. Correa is one of the most talented baseball players in the league and teams will be vying for his services.
Carlos Rodon, SP, San Francisco Giants, (29 years old)
Rodon is one of the best pitchers on the market and is coming off a fantastic season with the Giants. He posted a 2.88 ERA and as a lefty starting pitcher, he'll easily be one of the most targeted free agents out there. He can slide in as an ace for plenty of teams.
Justin Verlander, SP, Houston Astros, (39 years old)
Coming off a World Series ring, Verlander decided to opt out of his $25M player option and test the market. Verlander is one of this generation's best pitchers and even at age 39, interest will be there. It also helps that he's coming off one of the best seasons of his career, where he posted a 1.75 ERA.
Dansby Swanson, SS, Atlanta Braves, (28 years old)
Atlanta's star shortstop is set to be a free agent and is coming off a monster season. Swanson belted 25 home runs while hitting .277. There are a ton of elite shortstops hitting the market this free agency, so expect teams to pivot to whichever free agent they feel can get them the best value.
Xander Bogaerts, SS, Boston Red Sox (30 years old)
The 30-year-old shortstop is coming off a great season. Again, the shortstop market is highly competitive but expect Bogaerts to look for a long-term deal. He is one of the best all-around players available.
Clayton Kershaw, SP, Los Angeles Dodgers (34 years old)
One of the best pitchers of all-time, Kershaw is still elite when healthy. Injury concerns are the only thing that gives pause when evaluating Kershaw's resume as last season he posted 2.28 ERA in 126.1 innings. He's a surefire Hall-Of-Famer and teams in need of pitching will certainly reach out to see if he's willing to leave the Dodgers.
Brandon Nimmo, OF, New York Mets, (29 years old)
The Mets have numerous key free agents this offseason, one being Brandon Nimmo. Nimmo has turned himself to a great defensive centerfielder and one of the best hitters in the league in terms of on-base percentage. The outfield market is thin, so teams wanting to make a splash may look towards Nimmo to fill that hole.
© 2023 Latin Times. All rights reserved. Do not reproduce without permission.