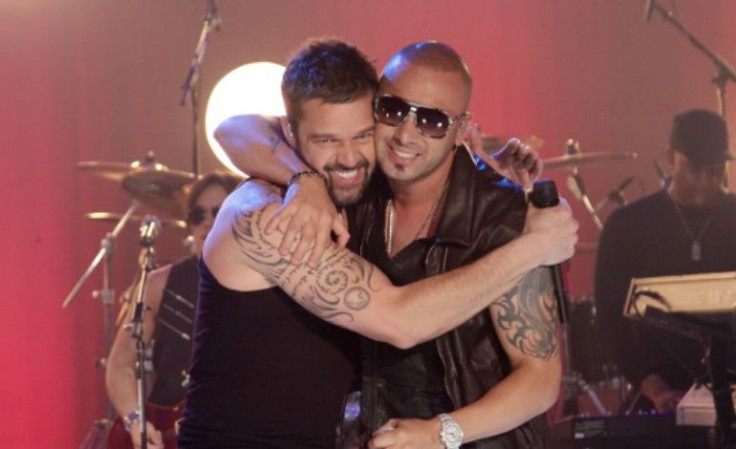 Wisin will embark in a new adventure in the "Takeover World Tour " and he will also be the special guest on Ricky Martin's "One World Tour." The artist talked with the Latin Times about working with the fellow Puerto Rican, the importance of his fans and how he feels after the release of "Los Vaqueros: La Trilogía" which remains in the number one position of "The Billboard Top Latin Albums" chart.
After "Adrenalina," Ricky and Wisin recently released their latest collaboration "Que Se Sienta El Deseo," a track full of Latin rhythm to party. "We had a big responsibility to exceed expectations, and I think we accomplished that with our new song. It was time to leave the ego aside and work for the music." Wisin said about their work. "In this new phase of my career, I think people are understanding more that I'm not only an artist, but I'm also a producer and I love doing fusions with different types of music and I love creating big things."
He also added that he's not afraid of trying different rhythms and that working with Carlos Vives was very special because he has the "unique magic and touch" for "Vallenato."
"I love Colombia and I love collaborating with different talents, doing 'Vallenato' was a personal challenge for me," the singer said he felt very supported working with Vives and Daddy Yankee in the successful "Nota De Amor."
The singer didn't forget about the importance of his fans and credits them for being his biggest motivation, "the protagonists of the success of the album is the audience, if we don't receive the massive support from them, our hours and work in the studio would be meaningless. The biggest joy you can get as an artist, is to see your fans from different nationalities united. It's huge for me to see people of all levels enjoying my music," Wisin said.
When we ask about how he feels at this point in his career, he says he only feels "gratitude! I'm enjoying the best moment in my personal life and professional career."
Don't miss Wisin's "Takeover World Tour"
September 30 - Live on Central @ Club DWNTWN - Phoenix
October 1 - Club Chateau (Paris Hotel) - Las Vegas
October 2 - Riverside Municipal Auditorium - Riverside, CA
October 3 - Belasco Theater - Los Angeles
October 4 - Ruby Skye - San Francisco
October 29 - Guayaquil - Ecuador
October 30 - La Paz - Bolivia
October 31 - Cuenca - Ecuador
November 6 - Lima - Perú
November 7 - Miami, FL
November 14 - Buenos Aires - Argentina
November 15 - Córdoba - Argentina
November 28 - Santa Cruz - Bolivia
Guest Appearances in Ricky Martin's "One World Tour" ​
October 8 - Madison Square Garden -New York, NY (with Ricky Martin)
October 9 - Eagle Bank Arena - Washington, DC (with Ricky Martin)
October 11 - All State Arena - Chicago (with Ricky Martin)
October 14 - Bell Centre - Montreal (with Ricky Martin)
October 15 - Air Canada Centre - Toronto (with Ricky Martin)
October 17 - Boardwalk Hall - Atlantic City, NJ (with Ricky Martin)
October 18 - Mohegan Sun Arena - Uncasville, CT (with Ricky Martin)
October 22 - Philips Arena - Atlanta (with Ricky Martin)
October 24 - American Airlines Arena - Miami (with Ricky Martin)
October 25 - Amway Center - Orlando (with Ricky Martin)
© 2023 Latin Times. All rights reserved. Do not reproduce without permission.