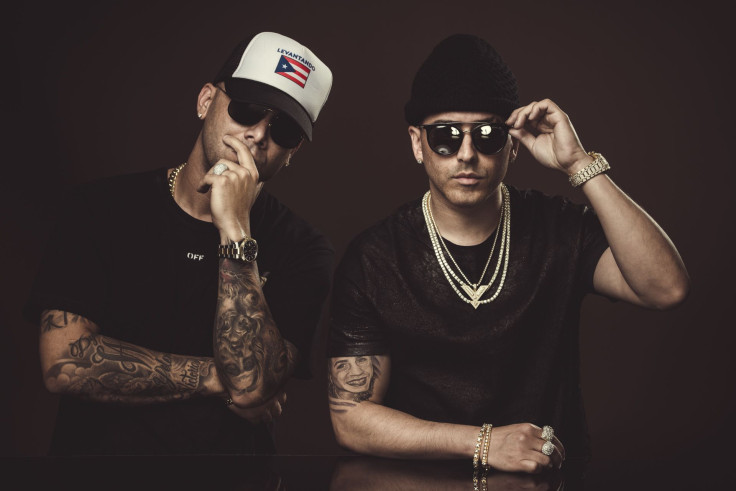 It was right about time! Back in September, Wisin y Yandel surprised everyone when they released the single "Como Antes," an ode to their greatest hits after leading solo careers for five years. Last night, at the 30th Premio Lo Nuestro Award, the "duo de la historia" finally performed on stage together for the first time since coming back together.
The hype and excitement were real. Although a lot of fans were hopeful that this was going to be a journey to the past when the Puerto Rican urban performers began their part in the show singing "Pam Pam" from their 2005 album "Pa'l Mundo," Wisin y Yandel surprised audiences by keeping it current with "Como Antes" and "Todo Comienza En La Disco," their newest single released earlier this year featuring Daddy Yankee, who joined them on stage too.
They didn't need much to get the crowd going. Their energy was so intense that everybody at the American Airlines Arena was on their feet, marveling at the new and reloaded Wisin y Yandel, so choosing to perform their most recent singles was a great tactical move. This is what we'll be seeing from now on: a hint of the past, a more mature sound, modern outfits, and incredible strength in the performances.
Wisin y Yandel are definitely back with a bang, proving that sometimes, taking some time apart to work on your personal projects can immensely benefit the group's outcome. Premio Lo Nuestro sure made history, witnessing the return of "el duo de la historia," as well as other great performances by the best of Latin music.
The gala, which honored international icons Gloria and Emilio Estefan with a special recognition for their pioneering work as Latin music ambassadors and inspiration for new generations of artists, focused on commemoration rather than competition and featured an extraordinary array of talent onstage of the longest-running awards show for the Hispanic community in the U.S.
Among the performances were Daddy Yankee, Jhonny Ventura, Laura Pausini, Milly Quezada, Pepe Aguilar, Pitbull, Víctor Manuelle, and Bad Bunny opening the show with a production by Sergio George; Leslie Grace, Il Volo and Víctor Manuelle paying tribute to the Estefans; Banda MS honoring Joan Sebastián, and David Bisbal with a rendition of José José's "El Triste" that gave you goose bumps.
Silvestre Dangond also went on stage singing Lalo Rodríguez's "Ven Devórame Otra Vez," which was the first song to ever win a Premio Lo Nuestro in the inaugural show; Ricardo Montaner invited his kids Evaluna Montaner and Mau y Rickt to perform some of his most renown songs ; Son By Four's Angel López sang "A Puro Dolor" with Piso 21, and Olga Tañón gathered some of the fiercest ladies in music: Natalia Jiménez, Victoria "La Mala" and Natti Natasha to perform some of her most famous hits as everyone celebrated that Tañón is the artist that has won the most Premios Lo Nuestro in the history of the show.
© 2023 Latin Times. All rights reserved. Do not reproduce without permission.