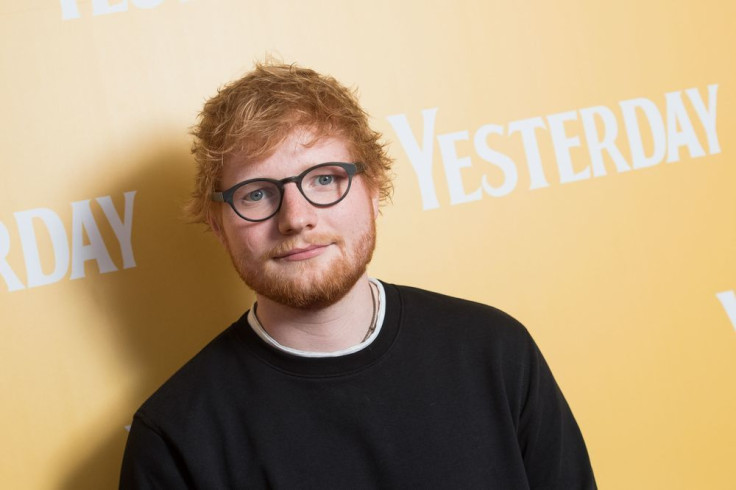 The woman who is accusing Ed Sheeran of plagiarizing Marvin Gaye's "Let's Get It On" unexpectedly passed out in court on Wednesday, Apr. 26, necessitating the assistance of several observers.
Kathryn Townsend Griffin, the late Ed Townsend's daughter, and co-writer of the legendary 1973 soul classic, passed out in the courtroom in lower Manhattan as Sheeran's attorneys started questioning a musicologist who was giving testimony regarding the song's composition.
Townsend Griffin, who asserts that Sheeran's 2014 hit "Thinking Out Loud" copied portions of her father's song, collapsed as she was exiting the courtroom, New York Post reported.
She was carried out of the courtroom on a stretcher after being raised by a few men in the gallery and treated for medical issues.
The 32-year-old "Shape of You" singer stared intently as Townsend Griffin was escorted from the bewildered courtroom. Judge Louis Stanton delayed the proceedings for almost seven minutes before he gave the go-ahead to resume.
Musicologist Alexander Stewart, who testified that Sheeran's song "Thinking Out Loud" had elements in common with Gaye's popular song, was subsequently interrogated by Sheeran's attorney Ilene Farkas.
Stewart told jurors the two songs "have the same harmonic rhythm," and outlined melodic similarities in three areas – verse, chorus, and interlude.
A bizarre, computer-generated rendition of "Let's Get it On" was played in court during Stewart's testimony, which lasted the entire day.
During an earlier break in the proceedings, Townsend Griffin, who was wearing a beige coat with the word "Dignity" written on the back, remarked that her father would have "laughed" if he had heard the AI version of the song.
A lawyer for Townsend Griffin didn't explain what caused her to faint later, but said she has a "pre-existing medical condition that she's dealing with."
Sheeran testified on Tuesday, Apr. 25, that he'd have to be an "idiot" to steal Gaye's song, perform it in front of a large audience, and then claim it as his own.
In his opening remarks, Ben Crump, the lawyer representing Townsend Griffin, claimed that Sheeran gave a "confession" when he performed a mash-up version of his song and Gaye's during a 2014 concert in Switzerland.
Crump called a video of the live performance the "smoking gun" in the lawsuit.
Edward Christopher Sheeran MBE is an English singer-songwriter. Born in Halifax, West Yorkshire, and raised in Framlingham, Suffolk, he began writing songs around the age of eleven.
In early 2011, Sheeran independently released the extended play No. 5 Collaborations Project. He signed with Asylum Records the same year.
© 2023 Latin Times. All rights reserved. Do not reproduce without permission.