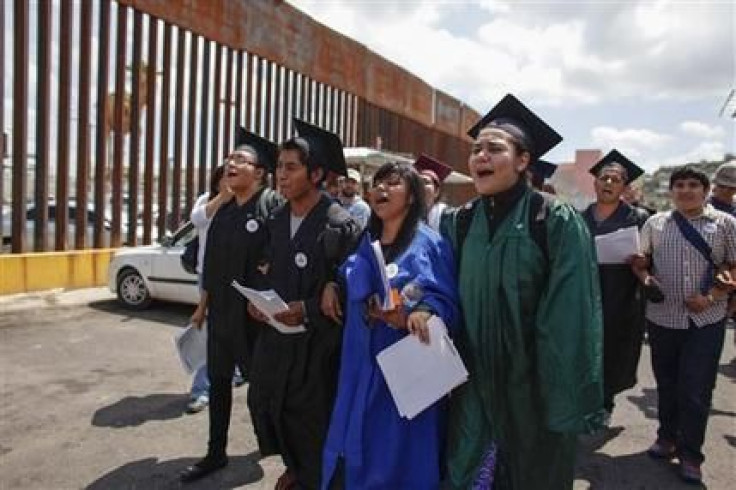 Eight immigrant activists are being held by Customs and Border Protection officials at a detention center at the Nogales border crossing in Arizona after trying to cross from Mexico back into the United States in a protest of the Obama administration's deportation policies, which in 2011 saw nearly 400,000 people removed from the country. Authorities are reportedly considering the activists' request for "humanitarian parole", which would allow them entry into the country; failing that, the eight will request asylum. All of them have lived in the United States for most of their lives after being brought here by their parents as children, though none of them have legal status.
Last week, one of the activists -- Lizbeth Mateo, who is also a member of the National Immigration Youth Alliance (NIYA), which organized the protest - had publicized her own self-deportation in a video sent from Oaxaca, Mexico. Mateo announced her intention to try to re-enter the US along with two of her cohorts in the NIYA, Lulu Martinez and Marco Saavedra.
RELATED: Will 3 Dreamers Be Able To Re-Enter The US After Self-Deporting?
"We are giving President Obama a chance to do the right thing," Mateo told the Associated Press. "They always say, 'Why don't you come here legally?' Well, this is his chance to create the legal process" for those who were deported and want to return, she said.
According to the activists' lawyer, Margo Cowan, humanitarian parole would mean that the activists could be released with the understanding that they aren't a menace to society.
RELATED: Crucial Month Nearing, McCain Admits 'We're Not Winning' On Immigration
Over the weekend, the three were joined by four others who had earlier returned to Mexico because of the difficulty of their living conditions in the US as well as a fifth woman who had been deported from Kansas, according to the Los Angeles Times. But on Monday, as the group donned graduation caps and gowns and proceeded toward the border, they found their ranks swelling as some 30 other one-time immigrants arrived to join them. On the US side of the border, meanwhile, some 60 immigration reform advocates gathered and chanted in support of the activists.
RELATED: Rep. Steve King Talks Deportations, Immigration With Univision's Jorge Ramos
Their ranks included Maria Peniche and Adriana Gil Diaz, who left the country just before the Obama administration announced the deferred action program which allows many young undocumented immigrants to remain in the country legally. Another, 20-year-old Luis Gustavo Leon, had gone to Mexico two years ago for university but couldn't get used to the lifestyle there. 37-year-old Claudia Amaro Escalera, who after more than 20 years in the US, followed her husband to Mexico six years ago when he was deported. She was the first to be detained, along with her US-born son Yamil, 13. Lizbeth Mateo, 29, one of the leaders of the protest, is a graduate of Cal State Northridge. She told the LA Times she has already paid her tuition on Sunday for Santa Clara Law School, which starts classes in August, and on Monday she sent a note to the school letting them know she may not make it on time.
© 2023 Latin Times. All rights reserved. Do not reproduce without permission.