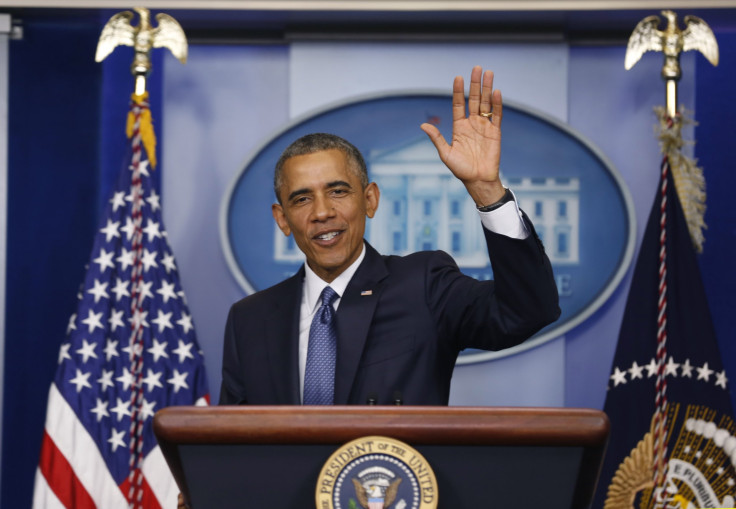 President Barack Obama has been one of the biggest supporters of immigration reform in this country's history. Despite his every move being blocked by Republicans in Congress, the President has made it clear that he is behind comprehensive reform and will do what it takes. Today President Obama is celebrating his 53rd birthday: here is a chance to look back on some of his most inspirational quotes on immigration reform.
1. "We have to stand up for these issues when it's tough, and that's what I've done. I did it when I was in the state legislature, sponsoring the Illinois version of the DREAM Act, so that children who were brought here through no fault of their own are able to go to college, because we actually want well-educated kids in our country who are able to succeed and become part of this economy and part of the American dream."
2. Earlier this year, President Obama pointed to the economic benefits that immigration reform might have, urging Republicans to consider his proposal. "Independent economists say immigration reform will grow our economy and shrink our deficits by almost $1 trillion in the next two decades. And for good reason: when people come here to fulfill their dreams -- to study, invent, and contribute to our culture -- they make our country a more attractive place for businesses to locate and create jobs for everyone. So let's get immigration reform done this year."
3. "Number one, it is absolutely critical that we tone down the rhetoric when it comes to the immigration debate, because there has been an undertone that has been ugly. Oftentimes, it has been directed at the Hispanic community. We have seen hate crimes skyrocket in the wake of the immigration debate as it has been conducted in Washington, and that is unacceptable."
4. When speaking about education, the President also pointed to the strides made by young immigrants in the country. "Estiven Rodriguez couldn't speak a word of English when he moved to New York City at age nine. But last month, thanks to the support of great teachers and an innovative tutoring program, he led a march of his classmates -- through a crowd of cheering parents and neighbors -- from their high school to the post office, where they mailed off their college applications. And this son of a factory worker just found out he's going to college this fall."
5. "We are a nation of laws and we are a nation of immigrants, and we can reconcile those two things. So we need comprehensive reform, and that means stronger border security. It means that we are cracking down on employers that are taking advantage of undocumented workers because they can't complain if they're not paid a minimum wage. They can't complain if they're not getting overtime. Worker safety laws are not being observed. We have to crack down on those employers, although we also have to make sure that we do it in a way that doesn't lead to people with Spanish surnames being discriminated against, so there's got to be a safeguard there."
6. "Number one, it is important that we fix the legal immigration system, because right now we've got a backlog that means years for people to apply legally. And what's worse is, we keep on increasing the fees, so that if you've got a hard working immigrant family, they've got to hire a lawyer; they've got to pay thousands of dollars in fees. They just can't afford it. And it's discriminatory against people who have good character, we should want in this country, but don't have the money. So we've got to fix that."
7. "I do not want two classes of citizens in this country. I want everybody to prosper. That's going to be a top priority."
8. "The system isn't working when 12 million people live in hiding, and hundreds of thousands cross our borders illegally each year; when companies hire undocumented immigrants instead of legal citizens to avoid paying overtime or to avoid a union; when communities are terrorized by ICE immigration raids -- when nursing mothers are torn from their babies, when children come home from school to find their parents missing, when people are detained without access to legal counsel. When all that's happening, the system just isn't working."
9. "I marched with you in the streets of Chicago to meet our immigration challenge. I fought with you in the Senate for comprehensive immigration reform. And I will make it a top priority in my first year as President."
10. "If we are going to solve the challenges we face, you need a President who will pursue genuine solutions day in and day out. And that is my commitment to you. We need immigration reform that will secure our borders, and punish employers who exploit immigrant labor; reform that finally brings the 12 million people who are here illegally out of the shadows by requiring them to take steps to become legal citizens. We must assert our values and reconcile our principles as a nation of immigrants and a nation of laws. That is a priority I will pursue from my very first day."
© 2023 Latin Times. All rights reserved. Do not reproduce without permission.