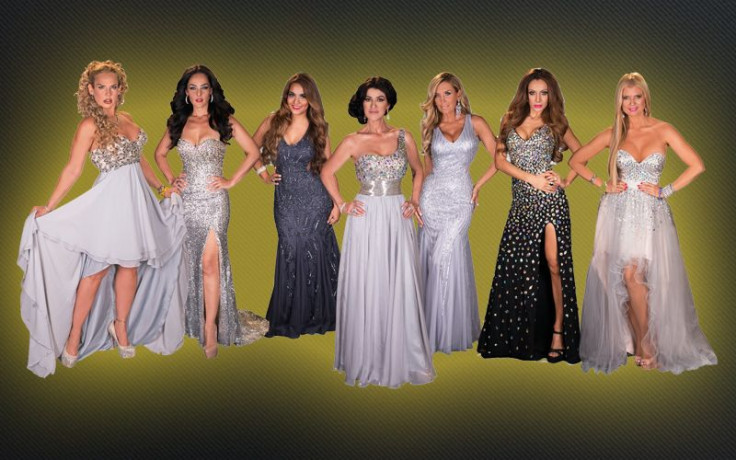 The reality smash hit show "Rica Famosa Latina" is back for Season 3. The "Chiqui Rucas" are back to expose their ritzy life for the enjoyment of all the viewers. If this show reminds you of "The Real Housewives" franchise, that's probably because former "The Real Housewives Of Beverly Hills" cast member Joyce Giraud took a heavy cue from the Bravo format. Although she only spent a season fighting with Brandi Glanville, the Puerto Rican beauty queen now is behind the camera of the Spanish-language program seeing other ladies get into cat fights. This new season see's the entrance of Niurka Marcos, Andrea García and Lupillo Rivera's wife, Mayeli Rivera. The three newbies join existing cast members Luzelba Mansour, Sandra Vidal, Victoria Del Rosal and Sissi Fleitas. These are the 10 Reasons You Can't Miss "Rica Famosa Latina" Season 3:
1. "La Emperadora" Is Here: Niurka Marcos joins the cast of this reality show. When we first heard of the news of the addition we couldn't think of someone more perfect to be part of "Rica Famosa Latina." The Cuban actress has always been outspoken and stands up for herself. Initially we thought that Elisa Beristain was going to meet her match, but we know that is not possible as she is no longer part of the show. Either way, we know Niurka will bring on the drama and we can't wait.
2. Pablo Montero Face-Off: Sandra Vidal confirmed that she will be meeting up with the father of her child sometime this season of RFL. The encounter is something we have been looking forward to and Vidal told us it will take place in Cozumel, México. Cameras caught the action and we hope it's for the best of the child they have in common.
3. Lupillo Rivera Sighting: With the addition of Mayeli Rivera, Lupillo's wife, we will now get to see the other side of things. Mayeli had been featured on the show as Elisa's friend but didn't have a plotline. Now as a regular this season we will get to know her story. You know we love "el chisme" and hopefully this draws Lupillo to come closer to his family as there has been a drift. Maybe we will see why he has distanced himself from all of them.
4. Estela Mora Vs. Elisa Beristain: Season 2 ended with Estela being arrested and escorted by police after an altercation that Elisa provoked. It was later revealed that Mora was taken into custody by police because she refused to give up a camera that held the recording of Beristain barging in and attacking Estela. She was only trying to protect the media to show proof of what had gone down. We hope Season 3 gives us more insight into this fallout, which will be difficult as both ladies are not part of the cast anymore.
5. Luzelba Is Witness: Lucy was the only other lady that witnessed the brawl between Elisa and Estela. Hopefully she will give us some insight as to what happened and if she still talks to Elisa Beristain. Lucy showed her vicious side during Season 2 when she completely ridiculed Sissi in front of everybody. Will she scheme against another girl this season?
6. Sissi Fleitas Vs. Everyone: The former "Sábado Gigante" model has proven she is a tough cookie and beware if you double cross her. Fleitas has a strong personality and has gotten down and dirty defending what she thinks is right. In this new season, it seems that she has cleared the air with Sandra Vidal, but there are new ladies in town and we are sure she will spark up more controversy.
7. Andrea Garcia Joins Cast: Andres Garcia's daughter also joins RFL this season. We don't know much about Garcia, so adding her to the cast will give us more of an idea of who she really is. Will she be nice or mean? What do you think?
8. More Glamour And Trips: These rich Latinas know how to throw a party. We love seeing them travel to exotic places and glam themselves up for VIP parties and get down to business. We are expecting to see more of this during Season 3.
9. Real Life Telenovela: One of the main reasons we love "Rica Famosa Latina" it's because it's like a telenovela. It has the plotlines of a primetime soap opera without the filler that most of these tend to have. There are heroes and there are villains. The best part of it all is that it's all reality, well, at least we want to think most of it is.
10. Snarky Comments: You know what else we look forward to when we watch this show? When the girls speak directly to the camera. That's when they are the most real, when we get into their heads and they give snarky comments about the situation they went through. These are always fun as we get their real opinion.
"Rica Famosa Latina" premieres Monday, September 21 on Estrella TV and will air Monday through Thursday at 7pm/6c. Will you be watching?
© 2023 Latin Times. All rights reserved. Do not reproduce without permission.