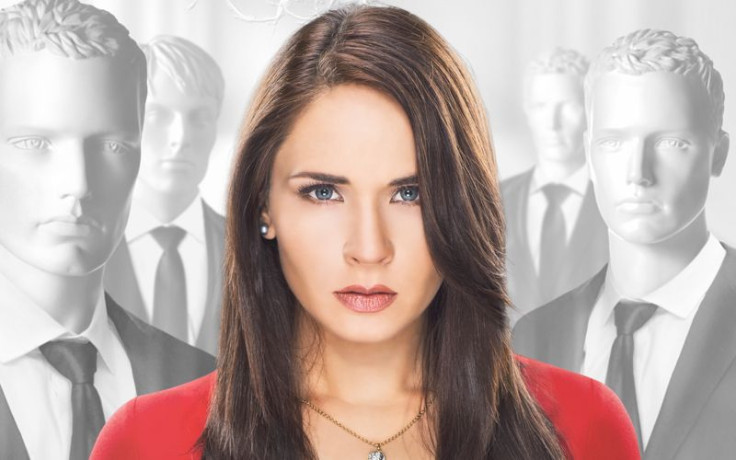 Univision is premiering "Yo No Creo En Los Hombres," the top award-winning telenovela at Premios TVyNovelas 2015 this year. Starring Adriana Louvier and Gabriel Soto, this is a Caridad Bravo Adams original telenovela that was genially adapted by Aida Guajardo and spectacularly produced by Giselle Gonzalez. The story follows Maria Dolores, a poor girl with noble feelings and a great talent for tailoring haute couture dresses. When her father is murdered, she must take on the responsibility of getting her family ahead, but right before her father's dead, she had just quit the haute couture shop where she was working, tired of the harassment she was going through by Jacinto, her immediate supervisor. Now, Maria Dolores must consider to go back and work in the shop again since her mother Esperanza's and her sister Clara's future depends on her.
When she makes the decision of reporting Jacinto, she meets Maximiliano Bustamante, an attractive and very honest lawyer who was deeply captivated by her beauty, and offers to help her with the harassment. Even when there is attraction between them, both are emotionally engaged with other people. He is about to marry Maleny, a high society, spoiled and capricious girl who doesn't really love him and is cheating on him with her tennis trainer. Maria Dolores is dating Daniel Santibañez, an unscrupulous junior who is lying to her since he is in fact engaged with Ivana, a young millionaire who is not very attractive but who will help him avoid his family's bankruptcy. Is this not reason enough to tune in to "Yo No Creo En Los Hombres" tonight? Here are 10 Reasons To Watch Premiere On Univision:
1. Adriana Louvier: This is Adriana's first telenovela as lead in a Televisa production. We had previously seen her in telenovelas like "Corona De Lágrimas" and "Quiero Amarte" and we always knew she had great potential from her previous work in Azteca and movies. Louvier doesn't disappoint giving María Dolores that sensible feel, but a strong woman at the same time when the character needs it.
2. Gabriel Soto: We already know how handsome Gabriel Soto is, being a leading man is a no brainer. Over the years we've seen his different characters, but what he does on "Yo No Creo En Los Hombres," is something that you have not seen before. Soto brings life to Max like no other actor could have. He gives it that sensitivity that a leading man needs, but still looking masculine. His character doesn't act on impulse and you will want to be María Dolores by the time this telenovela ends.
3. Writing Team: This is yet another remake from an old telenovela, but what Aida Guajardo does is amazing. She gives it a spin, she sets it in present time and the situations that these women go through seem feasible. We all struggle on a day-to-day basis and the leading women show us that through work and honest, anything is possible. Guajardo did an outstanding job at showing us the different facets of life.
4. Giselle Gonzalez Production: Giselle has an incredible eye for good taste and this telenovela is proof. She previously collaborated with Roberto Gomez Fernández in telenovelas like "Cachito De Cielo," "Alma De Hierro" and "Para Volver a Amar." This is her first production as the sole producer and she doesn't skip a beat. A telenovela with women in the center, produced by a strong woman herself. This is girl power at its best!
5. Diana Reyes Theme Song: Diana Reyes is known for her Regional Mexican music. If you are not familiar with her work, you will be familiar with it after you listen to this theme song. The tune that opens up the credits is perfect with the telenovela and it will most likely become your anthem against those men.
6. Azela Robinson: OMG! We always knew how good of an actress Azela Robinson is, you will love and hate her on "Yo No Creo En Los Hombres." Her character is extremely dark. She is misunderstood and that's because she only has one thing on her mind, avenge the death of her daughter. That is her mission and she will stomp on anybody that interferes with that. Her character will make you laugh, but only because she's so ridiculous. She the great "metiche" of the complex and will always be there when you least expect it.
7. Flavio Medina: Another great actor that show us how complex the mind can be. His character is truly despicable and he will do things that are unforgivable, but to feel compassion for a person like this? Trust us, you will be questioning why you would feel compassion for Daniel. The writers do a great job of showing the different shades of this villain.
8. Great Cast: The cast of "Yo No Creo En Los Hombres" is truly unbelievable. Rosa Maria Bianchi, Macaria, Sophie Alexander, Sonia Franco, Fabiola Guajardo, Juan Carlos Barreto, Alejandro Camacho and many more.
9. Eric Morales Director: Eric Morales is one of the best television directors. This guy will bring out the best in each of the actors. "Yo No Creo En Los Hombres" has some truly gruesome scenes that are extremely hard to watch because of how tough they are on the characters. Morales has good taste and doesn't make these scenes too graphic and instead focuses on the character's facial expressions. You can't miss the amazing work he does with this telenovela.
10. Award Winning Production: At this year's Premios TVyNovelas 2015, it took home the most trophies including, Best Lead Actress (Adriana Louvier), Best Male Villain (Flavio Medina), Best Legendary Actress (Rosa María Bianchi), Best Co-Starring Actress (Fabiola Guajardo) and Best Supporting Actress (Cecilia Toussaint).
"Yo No Creo En Los Hombres" will air on Univision, starting tonight, at 10pm ET/PT.
© 2023 Latin Times. All rights reserved. Do not reproduce without permission.