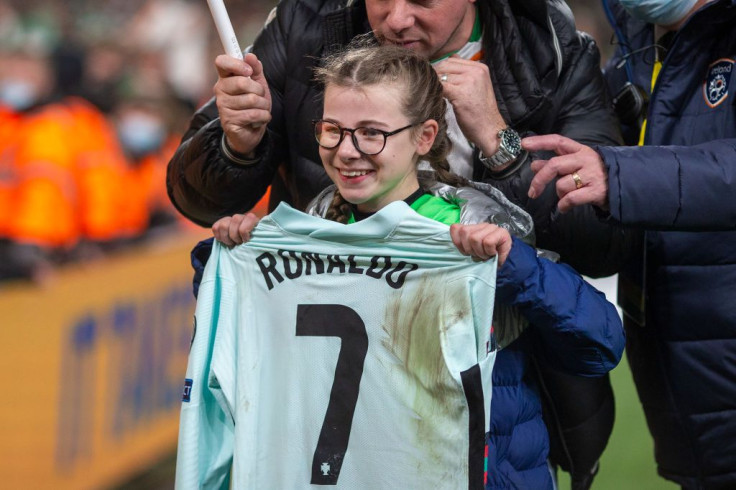 A young Cristiano Ronaldo fan admitted to being fined after jumping out of the barrier, running on the pitch at the Aviva Stadium in Dublin to meet and ask for the shirt of the Manchester United forward legend following Ireland's 0-0 draw with Portugal Thursday night.
Ronaldo made a young girl's night memorable by giving the girl his Portugal shirt plus a tight hug after she jumped onto the barrier and ran to the pitch to meet the striker.
The tearful fan, Addison Whelan, 11, was so full of emotion that she passed over the security guards as she shouted Ronaldo's name while rushing to wrap her arms around the Manchester United star. Ronaldo signaled the guards to stand down and let the girl come forward. Still, she has been fined £2,500 ($3356) for doing that.
After Ronaldo checked up on Whelan, he let the guards escort her off the pitch.
Whelan is a player of Shelbourne's Under-13s. She shared on RTE Radio 1's Morning Ireland, "I sprinted onto the pitch, but there were security guards running behind me and there was another two coming from the other corner so I just kept sprinting. When I saw the other two coming from the other corner I ran more towards the halfway line so then I could swerve around them, but then they caught me."
She described the moment as a dream come true for her.
Ireland and Portugal square off at Aviva Stadium for the World Cup Qualifiers. Portugal had a 0-0 draw by a dogged Irish defense. Despite failing to win during the game in Dublin, their draw was enough to make Portugal back on top of Group A on goal difference. They are now ahead of Serbia.
Ireland defender Shane Duffy still gave compliments to Ireland's Stephen Kenny after the match despite the result, which failed them to qualify for Qatar after a catastrophic beginning to their Group A match.
"That's the first thing the manager said after. We all know the disappointments at the start of the group, we didn't perform well enough but we want to finish the group as strong as we can. Going to Luxembourg to win is the aim and that's what we want to do."
Duffy commented on how the Ireland team grew their confidence against one of the best teams in the field. Despite disappointments, the team played with all their might fearlessly.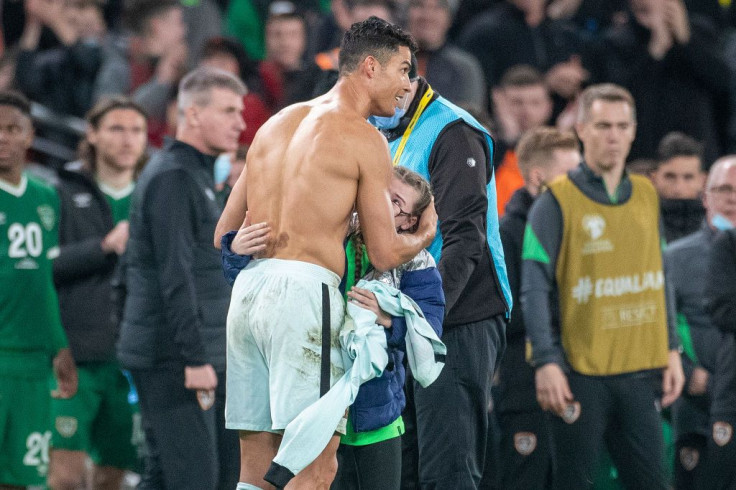 © 2023 Latin Times. All rights reserved. Do not reproduce without permission.