About 1.6 million doses of Moderna's coronavirus vaccine were removed from Japan's vaccine stockpile following reports of contamination in some vials, the Ministry of Health, Labor, and Welfare confirmed on Thursday.
Japanese drugmaker Takeda Pharmaceutical Co, which handles the distribution of the Nasdaq-listed Moderna vaccine in Japan, said it is suspending the use of the doses in question as a precaution following contamination reports from eight vaccination centers in the Aichi, Gifu, Ibaraki, Saitama, and Tokyo prefectures, Japan Today reported.
The lot with complaints had 565,400 doses and was produced in the same production line at the same time in Spain.
Moderna, "out of an abundance of caution," has ultimately decided to put on hold the lot and two adjacent ones, falling under three lot numbers 3004667, 3004734, and 3004956, with foreign substances confirmed in at least 39 vials, Reuters noted.
The doses of concern had already been sent to 863 vaccination centers across Japan and the ministry is now asking each facility not to use them.
Japanese authorities are also urging medical institutions not to administer any doses of the vaccine if they show some kind of abnormality.
Takeda Pharmaceutical Co. has since requested an emergency probe to be carried out by the U.S. biotechnology firm. Moderna subsequently confirmed it received "several complaints of particulate matter" in vaccine vials distributed in Japan, according to Nikkei.
It maintained it had found "no safety or efficacy issues" related to these reports at the moment as Japan's health department scrambles to minimize the impact of the withdrawal on their inoculation program.
The withdrawal of the 1.6 million Moderna COVID-19 vaccine doses comes as Japan struggles to get on top of the spike in coronavirus infections. The current outbreak has forced the Japanese Government to place eight more prefectures under its COVID-19 state of emergency on Wednesday.
Over 10 million doses have already been used in Japan since the Moderna vaccine was approved for emergency use in May, with the shots currently being offered to people aged 12 and over.
Japan will receive 50 million more doses of the Moderna COVID-19 vaccine by the end of September.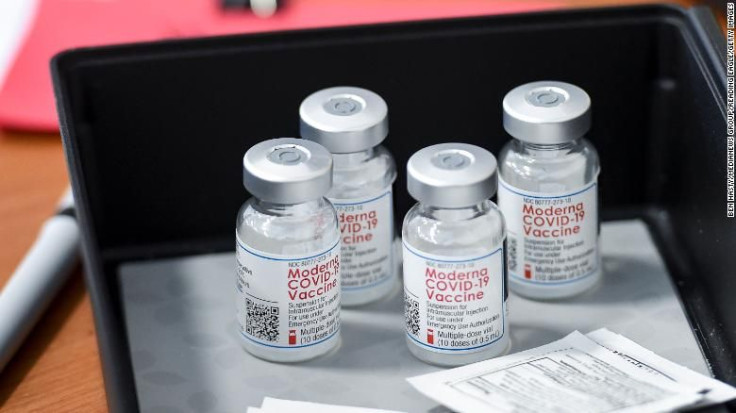 © 2023 Latin Times. All rights reserved. Do not reproduce without permission.