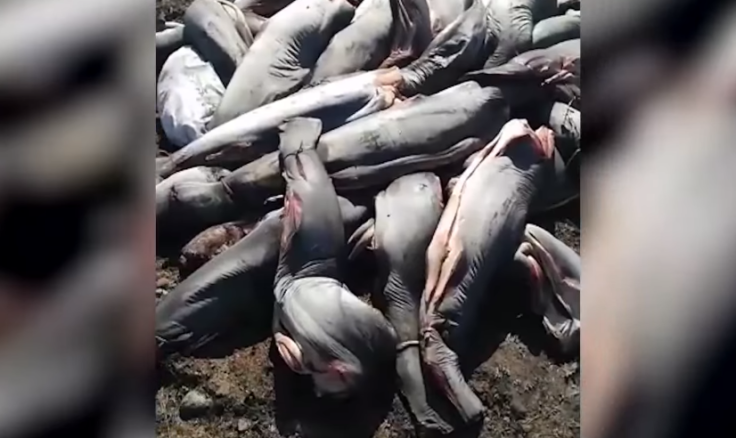 The Mexican Prosecutor's Office informed that the inhabitants of a town in the state of Michoacán alerted them to the discovery of hundreds of mutilated sharks that had been abandoned on the side of a road, adding that a total of 300 sharks of different sizes were found dead.
According to the information, the animals were thrown on the La Piedad-Guadalajara federal highway, and had no internal organs and their fins were cut. Given what happened, the Attorney General's office in Michoacán opened an investigation into an alleged crime against biodiversity and alerted the environmental protection services to analyze the animals.
After initiating the investigation, the Federal Attorney for Environmental Protection (PROFEPA) concluded that among the specimens thrown there were no prohibited species, also noting that they had been legally fished and were being shipped frozen in bulk to Mexico City in a van that was hijacked.
Among the species that were found were fox sharks, and according to the Mexican government "shark carcasses do not correspond with species listed in NOM-059-SEMARNAT-2010." In Mexico, the species considered in danger of extinction in Mexico, are the white sharks, the Peregrine shark and the whale shark.
Watch below the video of the find:
In May 2017, Actor and Oscar winner Leonardo DiCaprio raised his voice and demands to the president of Mexico, Enrique Peña Nieto, to put an end to the illegal fishing that is being practiced in the Gulf of California. He asked Peña Nietoto to use his power to save the Vaquita - a marine mammal that has taken on the title of the most endangered cetacean in the world.
After the message from DiCaprio, the Mexican president wrote on his Twitter account, welcoming the concern of DiCaprio and the World Wildlife Fund (WWF) around the species. The same year, Peña Nieto said that Mexico joins the efforts of other nations to protect the biodiversity of its seas.
© 2023 Latin Times. All rights reserved. Do not reproduce without permission.