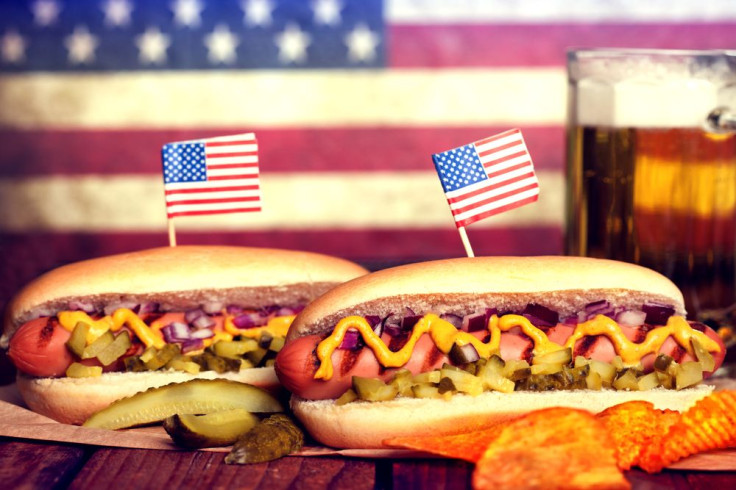 Fourth of July is the perfect day to spend with friends, family, and enjoy barbecues, cocktails and delicious desserts. As America's birthday rolls around, you know the fireworks and food are going to be too good. From 1776 to 2015, America has had 239 years of making us proud of a nation, or as we call it "the land of the free, and the land of the brave." It is a holiday worthy of a magnum feast, so here are the best recipes to prepare and wow your guests!
'How Sweet It Is's' Grilled Corn with Bacon Butter and Cotija Cheese: There are so many ways to prepare grilled sweet (or white) corn and very few ways to go wrong, but this is an amazingly flavorful idea. Don't skimp on the cotija and get the recipe here.
Food Network's Grilled Potatoes: Give your regular baked potatoes a twist with this recipe that gets them a little charred and adds delicious flavors. It is a great side for your meat!
Comida Kraft's Grilled Pork & Pineapple Brochettes: The good thing about brochettes is they make it easy to blend flavors. These treats on a stick even have fruit for a tropical, summery taste that will make them pop. Check them out here!
Tresha Yearwood's Cheese Stuffed Burgers: This twist on the classic cheeseburger will surprise everyone as soon as they take a bite. Cheese will ooze out from the juicy burger in the best meal ever. Check it out!
Comida Kraft's Crunchy BBQ Burgers: It is all about texture and flavor, right? Make these burgers by simply grilling your patties with BBQ sauce and add crunch with your favorite potato chips. Brilliant!
Food Network's Texas Dog: You can take the traditional route with a grilled hotdog and bun, and then give it a twist with a touch of barbecue sauce, and some coleslaw. Check out the recipe here.
Ina Garten's Flag Cake: This dessert is not only delicious, but it will be the perfect decoration for the table. Start with a simple tart base with cream filling and top with berries and icing. Sweeet!
JELL-O Frozen Freedom Pops: These creative and easy-to-make desserts will keep the kids entertained and will look great on your table! Check them out.
Spoonful Of Sugar's Raw Banana Cream Pie: This amazing dessert has a dark chocolate crust (optional), a raw banana cream filling and is decorated with seasonal fruit to look patriotic. Try it here!
Bobby Flay's Grilled Peaches with Cinnamon Sugar Butter: Take this dessert idea to the next level with the sweet butter and you can even add a creamy element with whipped cream or vanilla ice cream. Recipe here.
© 2023 Latin Times. All rights reserved. Do not reproduce without permission.