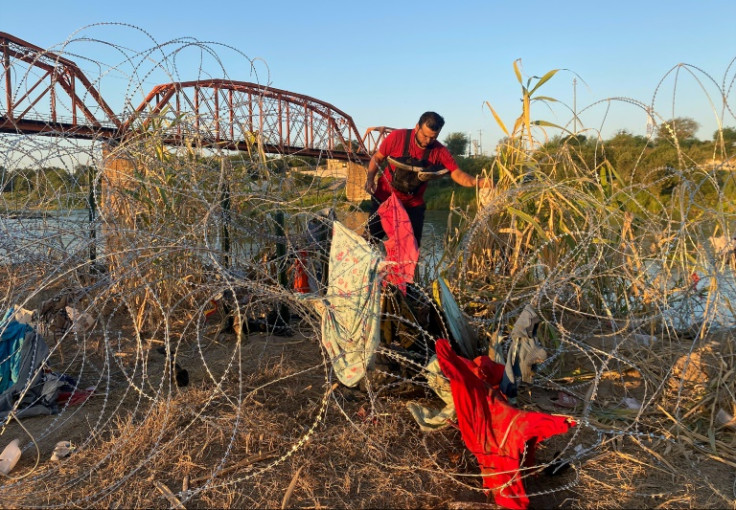 New York Governor Kathy Hochul announced Monday the deployment of an additional 150 members of the New York National Guard to support the ongoing response to the asylum seeker and migrant crisis, bringing the total of guardsmen to 2,200.
Due to this new mobilization the state will be able to assign 250 National Guard personnel to focus solely in case management. Along with the $50 million state investment in this item, it will help asylum seekers and migrants file the appropriate paperwork to attain legal work status and exit taxpayer-funded shelters.
This announcement comes as New York City Mayor Eric Adams announced plans to further tighten shelter rules by limiting adult migrants to stay in shelters for 30 days. Although migrants are able to reapply if they are not able to find housing.
"We appreciate the support we have received so far from our state and federal partners, but with more than 60,000 asylum seekers still in our care and without additional help, we will be forced to continue making difficult decisions," Adams said in a statement.
The mayor hopes to ease the pressures on the city's already struggling shelter system and perhaps discourage more migrants from coming. On the other hand, Gov. Hochul has identified work authorization as the key factor to end this crisis. A major focus fell on speedily processing Venezuelans to get them to work after the Biden administration announced it's granting temporary protective status to nearly 500,000 Venezuelans who arrived in the country before July 31.
"It is critical that we help secure work authorization for asylum seekers and migrants in New York," Hochul said in a press conference today. "We need to ensure individuals can navigate the paperwork necessary to get them established here so they can work and start making their American Dream a reality. Our National Guard members play a huge role in assisting in the process and we are grateful for their service."
Gov. Hochul went on to say that there are not enough workers and that people at the statewide meeting of businesses were asking to employ migrant workers. There are over 400,000 open jobs available from construction, restaurants, nursing homes, hospitals and more.
"We have the need and the demand, we match them together and that is how you take the crisis and turn it into an opportunity," said Hochul.
The New York State Department of Labor launched a new portal enabling businesses to inform the State that they would welcome newly authorized individuals into their workforce. The Department also created a new registration process where asylum seekers and migrants with work authorization can register for assistance.
With more migrants expected to arrive, the city is preparing to ask a judge to exempt newly arrived migrants from its right-to-shelter law, which has required the city to provide a bed to anyone who asks for one. Anne Williams-Isom, the deputy mayor for health and human services told WNYC's Brian Lehrer that the right to shelter should not be applied to this humanitarian crisis.
According to the New York Post, the state of Texas will continue bussing migrants to New York City, despite Gov. Hochul saying the state is at "capacity".
"Texas border towns should not have to shoulder the burden of Biden's open border policies," Abbott posted on X, formerly known as Twitter. "Texas will continue to send buses to sanctuary cities to provide relief to overrun border towns."
Texas has bused over 14,800 migrants to New York City since August 2022.
© 2023 Latin Times. All rights reserved. Do not reproduce without permission.