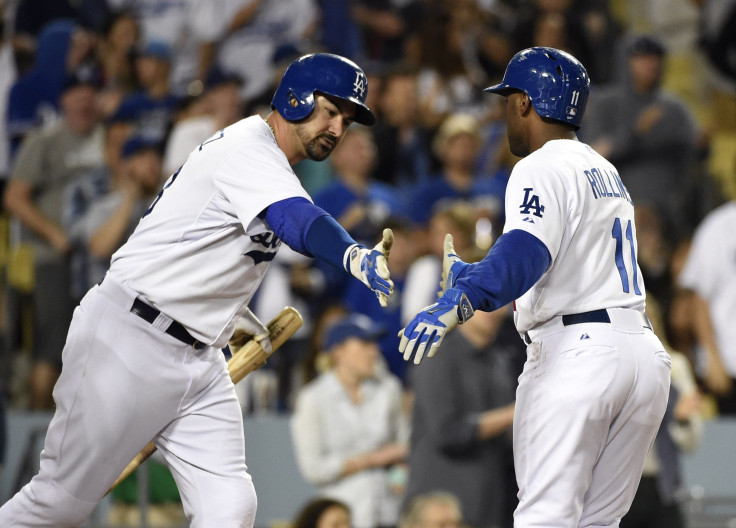 One of the top hitters in baseball has finally moved into his natural role as cleanup hitter as Mexican-American Adrian Gonzalez was slotted into the four spot in the rubber match against the Giants on Wednesday.
It wasn't in a glass elevator, but nevertheless Joc Pederson has gone "up and out" when it comes to the Los Angeles lineup. Thanks to injuries to key outfielders Yasiel Puig and Carl Crawford, Dodgers manager Don Mattingly has decided to tinker with the Dodgers lineup.
After a 2-for-3 performance with a double and home run against the Giants on Monday, Pederson was promoted from the eighth spot in the lineup to leadoff for the series finale against the rival San Francisco Giants.
The move makes sense as the Dodgers rookie centerfielder is third in the big leagues in on base percentage (.458) and tops on the team in walks (16). However, what is surprising is that LA's front office may have been plotting this move since spring training.
"The eight spot was designed to allow him to not feel any offensive pressure and be able to play and do his thing," said Mattingly of Pederson. "We figured that we would put him there (leadoff) after a month."
Pederson hit in the leadoff spot in most of his 121 games in Triple-A Albuquerque last year with a .303 batting average, a .435 on base percentage with 100 walks and 30 stolen bases. In 18 starts in the majors in 2015, he has only batted in the seventh or eighth spot – until today.
In addition to a promotion for Pederson, the move is a direct downgrade for Jimmy Rollins who has struggled to start the season. Rollins is batting a paltry .182 with a .281 on base percentage as the slumping shortstop drops to second in the batting order.
For Wednesday's finale against Giants starter Ryan Vogelsong, Pederson will leadoff, Rollins will bat second, Howie Kendrick moves up third and Gonzalez is in the cleanup spot. Andre Ethier is in sixth, Yasmani Grandal drops to seventh and Juan Uribe will be in Pederson's old spot in eighth.
Pederson's promotion could be permanent depending on how he handles the situation in the rubber match with the rival Giants on Wednesday. If he continues to perform up to par as he did in the back of the lineup, Los Angeles could have a new table setter this summer.
© 2023 Latin Times. All rights reserved. Do not reproduce without permission.