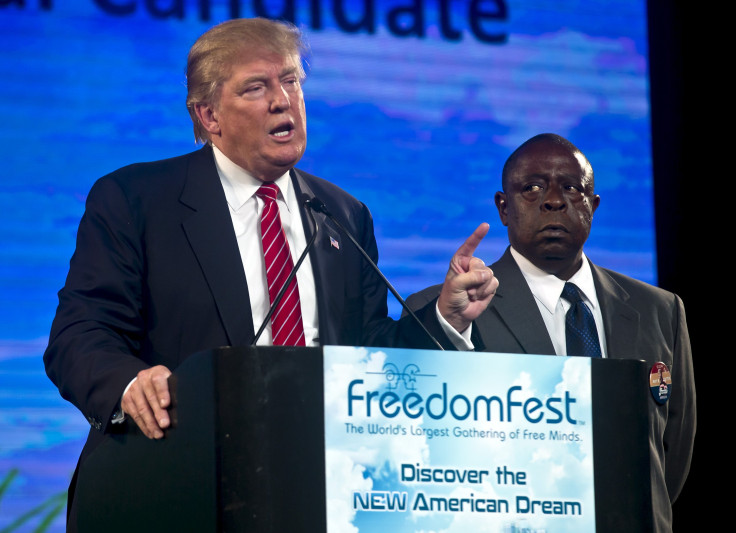 African-Americans are more likely to support increased immigration in the U.S. than non-Hispanic whites, says a new poll from Gallup. Around 30 percent of blacks support more immigration in the U.S, compared to just 21 percent of whites, according to the study, which had a ±5 margin of error. The latest national polls conducted by Gallup that were not race specific indicate that a majority of Americans support increasing immigration levels (25 percent) or maintaining them at current levels (40 percent), while a sizeable minority want to see immigration numbers drop (34 percent). Normally, sample sizes of minority groups in Gallup's national surveys are too small to have a smaller margin of error.
In the latest poll, over 800 African-Americans and whites were asked about their immigration views. The poll comes at a time when African-Americans are being increasingly evoked in the immigration debate. Here's a sampling of what current presidential hopefuls have said about black unemployment, legal status for immigrants and immigration in general. Most of them are white.
"You know what youth unemployment is in the United States of America today? If you're a white high school graduate, it's 33 percent, Hispanic 36 percent, African-American 51 percent. You think we should open the borders and bring in a lot of low-wage workers, or do you think maybe we should try to get jobs for those kids?"
- Bernie Sanders , in an interview with Vox in July, 2015
"Amnesty is fundamentally unfair to the African American community that is facing historic unemployment. Amnesty is wrong, but what we're facing right now is something even bigger and more important. We today are facing a full-fledged constitutional crisis."
- Ted Cruz , Tea Party rally in December, 2014
"[Black teenager Jamal Shaw] should be someday in the NFL, but he won't be, because an illegal immigrant shot him, violently."
- Donald Trump , at a campaign stop in July, 2015
Dr. Ben Carson, a black GOP presidential candidate has called for tougher immigration enforcement, as well as changes to the current worker visa program. As far as we could find, he doesn't evoke black unemployment though. He outlined his immigration proposal in the National Review in November of 2014 .
Jason Nichols, a lecturer in the African American studies department at the University of Maryland College Park, recently wrote an op-ed calling Trump's rhetoric a scare-tactic, and decrying disunity being advocated by American politicians.
"Dr King knew and supported the work of Cesar Chavez, and met with many other leaders in the Chicano Movement. We cannot afford to allow trumped up (pun intended) scare tactics to divide us," Nichols wrote in The Guardian , adding "We often live in close proximity to one another and both struggle with issues like mass incarceration, racial profiling, police brutality, educational achievement gaps, health disparities, poverty, food deserts and housing discrimination."
African-American views on immigration and legal status are far from monolithic. Tension over immigration is not new for the African-American community and leaders are often divided. In 2013, the Black American Leadership Alliance argued against a comprehensive immigration bill arguing that it would be bad for the African-American workforce. In an interview with U.S. News and World Report , Congressional Black Caucus member Rep. Yvette Clarke, D-N.Y. disagreed, supporting legal status for immigrants that are in the U.S. illegally.
"African-Americans don't live in a vacuum and will greatly benefit by the full integration of undocumented and out of status population," Clarke said.
The number of Latinos supporting increased immigration was 36 percent, up from 25 percent in 2013 and 16 percent in 2002. Latinos overwhelmingly (80 percent) agreed that immigration was a good thing. Blacks and whites agreed as well, but at a lower rate (70 percent and 72 percent, respectively)
© 2023 Latin Times. All rights reserved. Do not reproduce without permission.