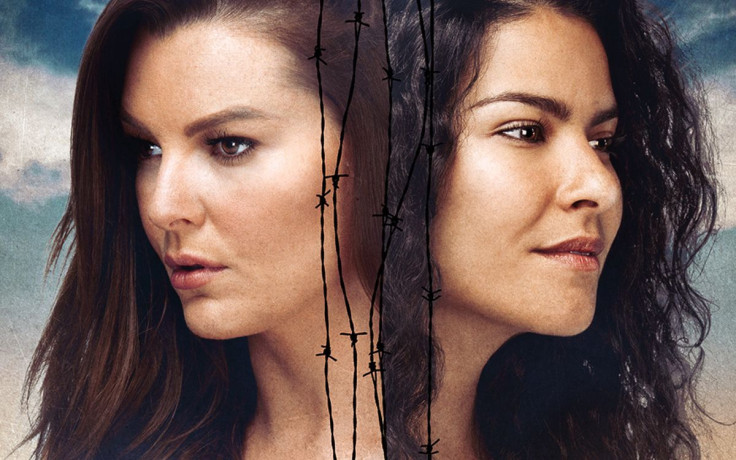 Marjorie De Sousa and Litzy return to the small screen with "Al Otro Lado Del Muro", a thrilling telenovela about two women who come to live in the United States: one chasing a dream and the other one escaping from a nightmare. The series also stars Oscar-nominated Adriana Barraza, Gabriel Porras, Uriel del Toro and Guillermo Iván as well as Khotan Fernández, Gabriela Vergara, Daniela Bascope, Ana Estupiñan, Mauricio Novoa, Daniela Wong, Jonathan Freudman, Alexis Vabegas, Thamara Aguilar, Gustavo Pedraza, Jullye Gilberti, Omar Germenos and many more. "Al Otro Lado Del Muro" premieres on Wednesday, February 21 starting at 9pm ET/PT on Telemundo. Read the full synopsis below and tell us what you think!
OFFICIAL SYNOPSIS: Eliza Romero, a woman of Mexican origin, a baker, energetic and generous, arrives to Los Angeles with the illusion of reuniting with her husband to finally live together with him and their two 8-year-old twins: Karina and Tomas. When she first married Max, they lived a happy and harmonious relationship in the city of Puebla, Mexico. Unfortunately, they could only be together a few months a year because Max had to travel constantly for work. Max had prepared everything to take her and their kids to live with him for good. Eliza burned her bridges, sold everything and traveled across half of Mexico by bus with her children to reach Los Angeles. Max, however, never arrived to the station where he was going to pick them up. Eliza found herself alone with her two young kids, not knowing what to do in a city unknown to her, without speaking the language, but with a determination to stay there until she found the man she loved.
Sofia Villavicencio, is a former Miss Mexico who married Ernesto Martinez, a young and promising Mexican politician who was elected governor of the state of Puebla in 2006. They had two children, Julian and Alondra. Everything seemed perfect in Sofia's life until one day a woman approached her pleading for help to recover her daughter who had been kidnapped; she alleged the governor was protecting the criminals who took her away. This is how Sofia discovers that her husband, a man she admired so much, whom she supported in his career, wasn't just a Governor, he was a corrupt politician linked to a gang of human traffickers, dedicated to the sexual exploitation of women and children. Sofia finds the place where they have the woman's daughter, along with other children and women, and helps free them. This brings all sorts of misfortunes to her; the criminals now want her and her young daughter Alondra, to pay for what she did. Sofia has no other option than to secretly flee the country with her daughter and leave behind her son, Julian. Sofia seeks the help of an American senator who is friends with her and her husband, but the man is also involved in the human trafficking network. She now has no one else to turn to, the only thing that she can think of is to find refuge in Los Angeles where she knows Eliza has been living, whom she had met a couple of years earlier. The two women live together with their children in a Mexican neighborhood for some months, trying to survive and give their best for their children.
Ten years later, Karina, Tomas and Alondra have become young adults between the ages of 17 and 18 years old. They are representations of what many young Latinos live when they have come to the United States, undocumented. Karina distances herself from her Mexican culture and aspires to go away to college. However, she lives in fear that someday they may be deported. Tomas, on the other hand, is a boy with his feet well on the ground who knows that his life as a student will end the day he finishes High School. Then, he will have no other option than to find a job in one of the businesses in the neighborhood and survive as many undocumented immigrants do in the country. Alondra is a young woman whose personal tragedy has made her introverted and sheltered, she hides her fragility behind a "Tomboy" façade. Alondra is the perfect victim for all the bullies in her school.
Eliza's talent as a confectioner has made the bakery she manages with her friend Andres, prosper. But despite having lived in the United States for ten years, she hasn't been able to assimilate into the culture of the country and hasn't even tried to learn the language, which creates conflicts with her daughter, Karina. Although ten years have passed, she has never lost hope that Max would come find her and explain what was so severe to separate him from his family. One day, Eliza goes to deliver a cake to a house in a wealthy neighborhood of the city, without ever suspecting that that is where Max lives with his wife, Jennifer, and a son only a couple of years younger than Karina and Tomas.
In the eyes of everyone, Sofia died a year ago, victim of an attack when she was transferred from the prison to a hearing before a judge. However, she is alive and her death was a smokescreen created by the police to protect her and use her as a witness to apprehend the senator and his criminal associates.
© 2023 Latin Times. All rights reserved. Do not reproduce without permission.