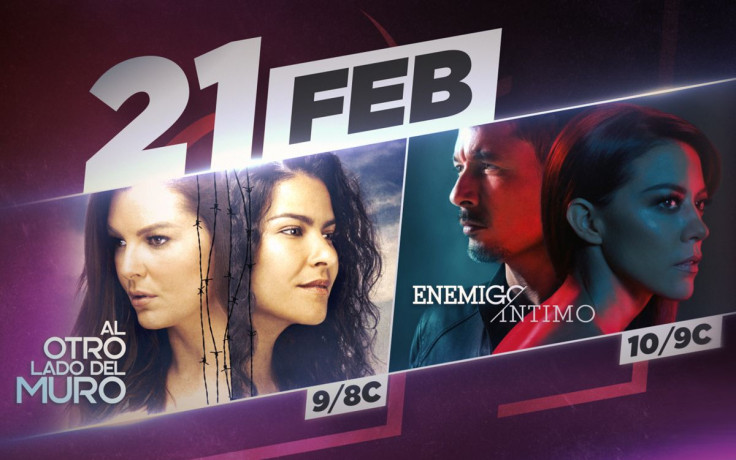 Telemundo is set to premiere two telenovelas on one night with the return to telenovelas of Majorie de Sousa on "Al Otro Lado Del Muro" and Fernanda Castillo in "Enemigo Íntimo". It will be on Wednesday, February 21 starting at 9pm ET/PT when the new block of programming starts on the Spanish-language network. Debuting a whole block of series on the same night proved to be succesful for the network back in 2016 when they launched three telenovelas: "Silvana Sin Lana," "Sin Senos Sí Hay Paraíso" and the reboot of "Señora Acero". All three were a hit in ratings with the latter two becoming a franchise with multiple seasons.
"Al Otro Lado Del Muro" (9pm/8c), starring Marjorie de Sousa, Litzy, Gabriel Porras, Adriana Barraza, Uriel del Toro and Guillermo Ivan, is the story of two women, one from a humble background and the other a prominent figure, who cross the border from Mexico to the United States for very different reasons: one in pursuit of a dream, and the other fleeing a nightmare. In this contemporary series, which reflects the realities lived by many immigrants, the protagonists must do the impossible to survive and make a life for their children while leaving everything they knew behind. "Al Otro Lado del Muro" is an original story by Laura Sosa directed by Luis Manzo and Nicolas Di Blassi, with Carmen Cecilia Urbaneja as executive producer.
Telemundo's new Super Series™, "Enemigo Íntimo" (10pm/9c), follows the lives of a brother and sister who were separated as young children but come together again many years later. Neither of them is aware of the past they share: the same parents, a happy childhood, and the crime that separated them. He has never stopped looking for her, but she has no memory of the past. Now fate has brought them face to face in an all-out war. Filmed in Zurich, Switzerland, Mexico, and cities along the US-Mexican border, "Enemigo Íntimo" stars Fernanda Castillo, Raúl Méndez and Matías Novoa. Written by Francisco Cordero and Humbert Barrero, the series is directed by Danny Gavidia and Felipe Aguilar, with Mariana Iskandarani and Mónica Vizzi as executive producers.
Fernanda Castillo is set to play Roxana Rodiles, a beautiful young woman who has managed to develop a range of characteristics: skillful, with an intelligence that can border on brilliance, impetuous at times and in others, achieving a single cause that allows her to overcome the problems and conflicts she faces. Seemingly naïve but really quite sure of herself, supposedly weak but in fact strong, she is enigmatic, passionate, and intelligent, with a past that no one is able to decipher. This ambiguity allows Roxana to conceal the whole truth about herself and leads others to make many assumptions, all of them wrong.
Raúl Méndez will play Alejandro Ferrer, a captain of the Federal Police, a man who has lost what he loved most in life – from his parents to his best friends – to the criminal cartels. He is a brilliant tactician, strong-willed, persistent and brutal when dealing with his enemies. His courage often works in his favor, but it can also verge on the irresponsible. Alejandro lives for his work and has almost no personal life. It's never clear whether he is a man who pursues justice at all costs and is willing to be ruthless for the greater good, or whether his actions are motivated purely by revenge.
© 2023 Latin Times. All rights reserved. Do not reproduce without permission.