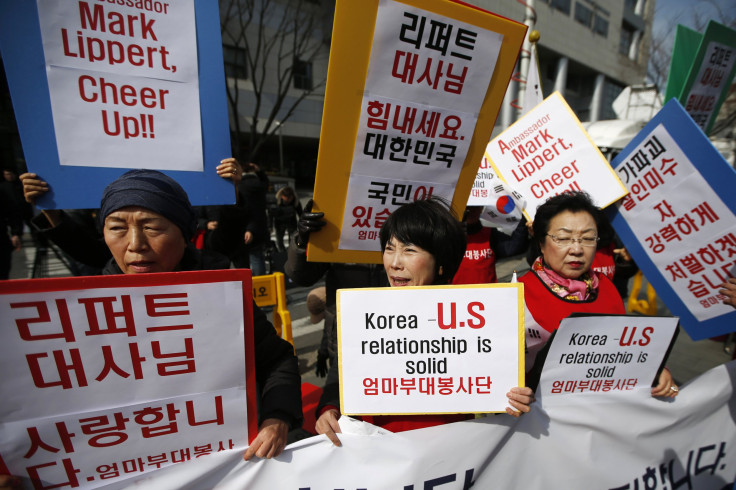 On Wednesday, U.S. Ambassador to South Korea Mark Lippert suffered a four inch wound to his face, requiring 80 stitches. North Korea called it "a just punishment for warmongers." The man wielding the 10-inch knife was Kim Ki-jong, a middle-aged Korean man who had a grudge against America in general, not Lippert personally. Ki-jong called for reunification with North Korea.
The face of America abroad, Ambassadors and diplomatic staff have been targeted by terrorists and revolutionaries for decades. Most recently, diplomats including Christopher Stevens were killed in Benghazi. However, the history of violence against American diplomatic officials really starts in Latin America, where murders and kidnappings surged during the Cold War and continued into the late 1990s.
Guatemala: The First-Ever Murder Of A U.S. Ambassador
John Gordon Mein was the first U.S. Ambassador to be killed in office. He was appointed Ambassador 1965. In 1968 members of the Fuerzas Armadas Rebeldes tried to kidnap Mein, who escaped capture. As he fled, they literally shot him down in the street only one block away from the U.S. embassy. The rebels explained in a communique that their main beef was with the Guatemalan government, and they intended to kidnap Mein to exchange him with their imprisoned comrades.
Brazil: A Bizarre Four Days In September
In 1969 Brazilian revolutionary groups were getting frustrated. A dictatorship had an iron grip on the country, after it deposed a democratically elected socialist president. In the anti-communist climate of the Cold War, U.S. fully supported the government. Hoping to secure a release for political prisoners, a small team from the Revolutionary Movement 8th of October (MR8) kidnapped ambassador Charles Burke Elbrick and held him for four days. Charles' interactions with MR are recounted by his wife Elvira Elbrick in this interview conducted by the The Association for Diplomatic Studies and Training.
"[Charles] said'[to his captors], 'Why do you rely on violence with an innocent victim like myself knowing nothing about your country, or your politics? I've just arrived here and violence doesn't pay.' And they said, 'Well, because the government won't listen to us.'"
On of the hostage-takers, Fernando Paulo Nagle Gabeira wrote a book about the incident. he later became a politician in Brazil, a Federal Deputy in Rio De Janeiro. His book is the base of the fictional film Four Days in September.
Colombia: A "Successful" Kidnapping Where No One got Hurt, Thanks To A U.S. "Negotiator"
U.S. Ambassador to Colombia Diego Ansencio was held with 30 other hostages for 61 days in the Dominican Republic's Embassy in Bogotá. Revolutionaries burst in and shot hundreds of rounds.
"To me it felt like the start of World War III," say Ascencio, in a YouTube video where he recounts the events. As a professional diplomat, he helped the guerillas craft their demands, editing them into less "savage" language.
His captors, members of the Marxist-Leninist Movimiento 19 de Abril (M-19) released all of the hostages after winning safe passage to Cuba and a $2.5 million ransom. The leader of the group, Rosemberg Pabón, eventually returned to Colombia after signing an amnesty deal with the government.
Peru: Seizure of Japanese Embassy With U.S. Officials Inside
American Ambassador to Peru Dennis Jett decided to leave the Japanese Embassy's party early on December 17th, 1996, but seven of his diplomats stayed behind. Hours later, they were caught in one of the most intense hostage situations in Latin American history. The Movimiento Revolucionario Tupac Amaru (Tupac Amaru Revolutionary Movement) seized the Embassy, demanding a cutback on neo-liberal policies, improvement of prison conditions, and other actions by Alberto Fujimori's government.
In the end, Peruvian military and American counter-terrorism forces stormed the Embassy. For a full account, read Diana Jean Shemo's How Peruvian Hostage Crisis Became Trip Into the Surreal. The revolutionaries did not kill any hostages. Many guerrillas died in the attack, and still more were detained and murdered extrajudicially by Peruvian forces. Some of the soldiers were charged for murder but subsequently granted amnesty. Fujimori himself has been accused of overseeing many human right violations.
© 2023 Latin Times. All rights reserved. Do not reproduce without permission.