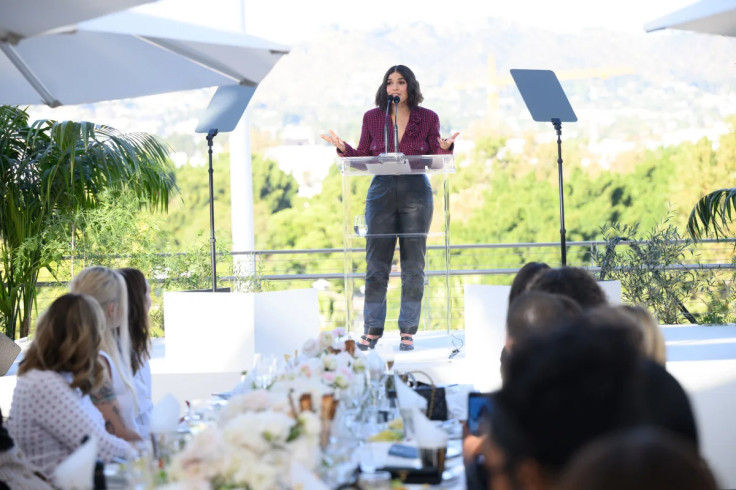 Denouncing Hollywood's "system of dehumanization," America Ferrera urged members of all minorities to "be resolute" in their commitments and demands for better working conditions in the industry.
Ferrera, the daughter of Honduran immigrants, was the main speaker at the Academy Women's Luncheon, where she reminded the audience about one of the main issues faced by the Latino community in media: underrepresentation and misrepresentation.
"According to the numbers, the dominant narrative our industry puts into the world is that Latinos either don't exist or they are poor, immigrant criminals," Ferrera said.
As the 60-plus million Latino and Hispanic population has become a major economic force in the United States, reports on the lack of representation in all spheres of life in the country have shown that the community is being downplayed and even denied advances according to their contributions. According to a report commissioned by the US Hispanic Chamber of Commerce, Latinos' economic output is now $3.2 trillion.
This week, the USC Annenberg Inclusion Initiative released an update of its report on Hispanic and Latino representation in films, which found that they are underrepresented both on screen and behind the camera. Only 4.4% of lead and co-lead roles in the top-grossing films from 2007 to 2022 went to Hispanic or Latino actors, and only 5% of directors were Hispanic or Latino. This lack of representation has a negative impact on Hispanic and Latino audiences, who are less likely to see themselves reflected in the stories that are told on screen.
Ferrera has been on both sides of the camera, as an award-winning actor, producer and director.
She was a protagonist in "Barbie," one of 2023's summer blockbusters, but most Latino audiences better remember her role in the beloved telenovela 'Betty La Fea.'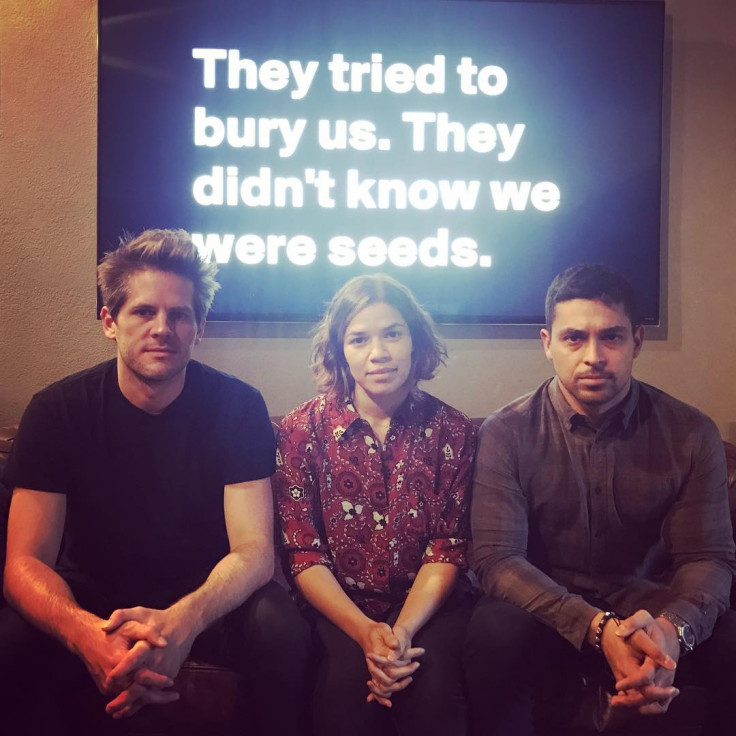 Ryan Piers Williams, America Ferrera, and Wilmer Valderrama (from left), founders of Harness.
IWillHarness.com
She also starred in the critically acclaimed film "Selena," which won her a Golden Globe Award for Best Actress – Motion Picture Musical or Comedy. She also produced and directed the documentary "The Last Taco Stand," which tells the story of a Mexican-American family struggling to keep their taco stand afloat. In addition to her work in entertainment, Ferrera is also a dedicated advocate for Hispanic cultural heritage. She presides over the foundation Harness, which provides support to Hispanic artists and organizations.
In her keynote message to Academy's women, Ferrera denounced the industry for its "system of dehumanization," which is felt by most minority communities, such as Native Americans, Asian American and Pacific Islanders, Blacks and LGBTQ+.
Ferrera in particular addressed the situation of women in the industry. Speaking before guests such as Eva Longoria, Lupita Nyonog'o, Kristen Steward, Rita Wilson, and others, she said "Everyone here knows that every victory for women on-screen is a testament to countless hours of battle. Endless creative and financial negotiations that determine whether our stories get told authentically and successfully."
She also spoke about the importance of fellowship and sorority to achieve equality in Hollywood. The actress's comments come at a time when there is growing awareness of the gender pay gap in Hollywood. A recent study found that women actresses earn an average of 27% less than men for doing the same work.
"Our grandmothers and great-grandmothers dreamed of rooms like this (...) "Women from different backgrounds telling stories, celebrating each other, even as we stand together to demand more space, more resources, and more opportunity. Community is not something that we can or should take for granted. And I would like us to consider that growing and strengthening this community might be the key to moving this industry forward."
"What I know today is that none of us needs to do it alone," she said. "I know that together we can grow our collective possibilities, and strengthen a global community of women storytellers, artists and truth-tellers," Ferrera said.
© 2023 Latin Times. All rights reserved. Do not reproduce without permission.