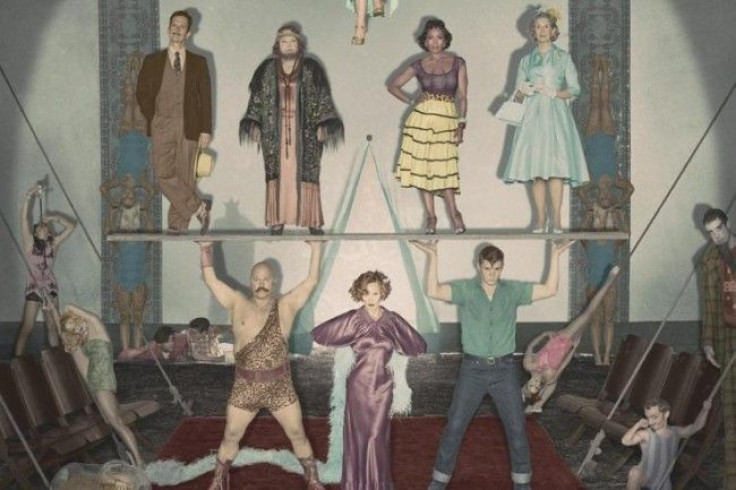 It's finally here! After months of anticipation, speculation and spoilers, Season 4 of "American Horror Story" is premiering tonight on FX and fans should prepared to be both dazzled and terrified by "Freak Show!" Fans have heard multiple reports stating that Season 4 is set to be the most terrifying season of "AHS" yet, and after experiencing Season 2's "Asylum," "Freak Show" must be absolutely terrifying, the miniseries which is notable for its horrifying plot lines and graphic violence will start off with a truly terrifying murder in tonight's episode, aptly titled, "Monster Among Us." The official FX synopsis confirmed that "American Horror Story" Season 4 will be set in Jupiter, Florida in 1952, the town is described as a "quiet, sleepy hamlet." But that's before the "Freak Show" arrives.
The synopsis continues, "a troupe of curiosities has just arrived to town, coinciding with the strange emergence of a dark entity that savagely threatens the lives of townsfolk and freaks alike." While Season 4 of "AHS" is set to have multiple villains, the most egregious and truly disturbing is "Twisty the Clown" played by actor John Carroll Lynch. Show runner Ryan Murphy admitted that "Twisty" is no ordinary clown, in fact he stated that the clown character is set to be "the most terrifying clown of all time." Murphy told BuzzFeed that "Twisty" even terrified the "AHS" staff, "we said in the writer's room that if we were going to do clowns, we were going to create the most terrifying clown of all time." The end of the synopsis doesn't provide any explicit details regarding the murderous reign of "Twisty," but it does reveal that pretty much everyone around the clown is an unfortunate target, stating "this is the story of the performers and their desperate journey of survival amidst the dying world of the American Carny experience."
Be sure to watch the Season 4 premiere of "American Horror Story: Freak Show" tonight at 10 pm on FX, or you can watch "Monster Among Us" online for free via livestream at FX.com!
© 2023 Latin Times. All rights reserved. Do not reproduce without permission.