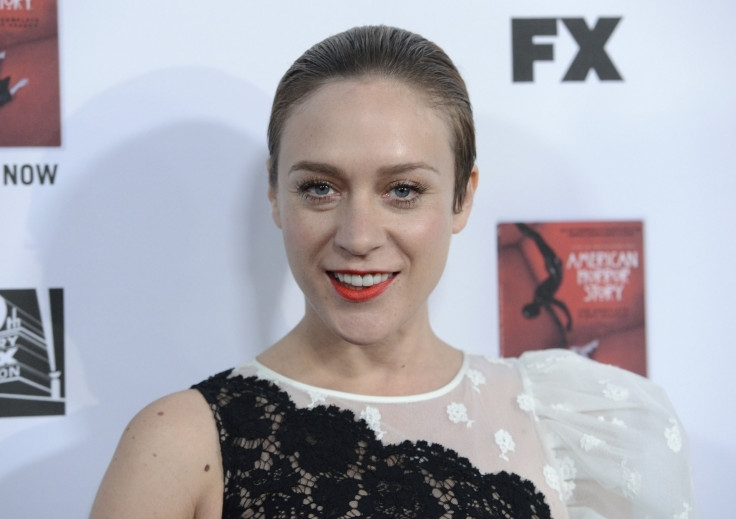 A fan favorite from the "American Horror Story" franchise will be making a return for its upcoming season. Reports confirm Chloe Sevigny will return for season five "American Horror Story: Hotel." While we don't know who Sevigny will play, Ryan Murphy revealed she will be series regular on "Hotel."
The co-creator of the creepy series announced the news via Twitter writing, "Very excited to announce that Chloe Sevigny returns to the AHS family as a series regular on 'AHS: Hotel.'"
If you recall Sevigny played a nymphomaniac inmate named Shelley in "American Horror Story: Asylum." As the series was set in the 60s, her history made her doubly the scapegoat and victim for the judge mental nuns and Briancliff as well as the evil scientist and secret Nazi played by James Cromwell.
Since Asylum Sevigny has also starred on HBO's "Big Love" and has appeared in the Netflix original series "Bloodline" and Fox's "The Mindy Project." We can't wait to see Sevigny in season five of "AHS" but until then check out these other 5 juicy details about "American Horror Story: Hotel."
1. Besides Sevigny the cast includes Lady Gaga, Wes Bentley, Matt Bomber and Cheyenne Jackson.
2. Jessica Lange will not be returning for season five. The 65-year-old actress confirmed her departure at Paleyfest.
"Yes, I'm done," the actress revealed. "We've had a great run here. I have absolutely loved doing these four characters that I've had the opportunity to play. In all the madness, I've loved the writers, my actors, Ryan [Murphy, creator] and the whole, I mean, insanity of it, shooting here, shooting in New Orleans, the stories, everything."
3. During the TCA winter press tour FX Networks CEO John Landgraf indicated season five of "AHS" will make some drastic changes to help improve the show as a whole.
"I know what [the premise for season 5] is, but I can't [say]. I have to let [series boss] Ryan [Murphy] do his thing on that. But it's very different."
Landgraf added, "One of the things I love so much about that is that it can be radically, radically reinvented in terms of tone, setting, period, characters, cast… I think there's going to be an unusually large reinvention in between Book 4 and Book 5 relative to, say, between Book 3 and 4."
4. Fans have theorized that clues were left in the previous season of "AHS" that give us a location for season five, the Garden of Allah Hotel in Hollywood.
According to Movie Pilot's web site Jessica Lange's character in "AHS: Freak Show," Elsa Mars, was inspired by Marlene Dietrich, the star of a film entitled Garden of Allah that was made in 1936.
The site also reveals, when Stanley is on the spinning board pleading for his life, he tells Elsa that he knows people in LA, because his brother "works at the Garden of Allah" in Hollywood.
Also viewers have noticed that in the bistro scene in the first episode of "AHS: Freak Show," Elsa mentions The Garden of Allah (although this is a reference to the film, not the hotel).
5. No official release date has been revealed but The Wrap is reporting FX renewed "American Horror Story" for a 13-episode fifth season that will debut in October 2015.
© 2023 Latin Times. All rights reserved. Do not reproduce without permission.