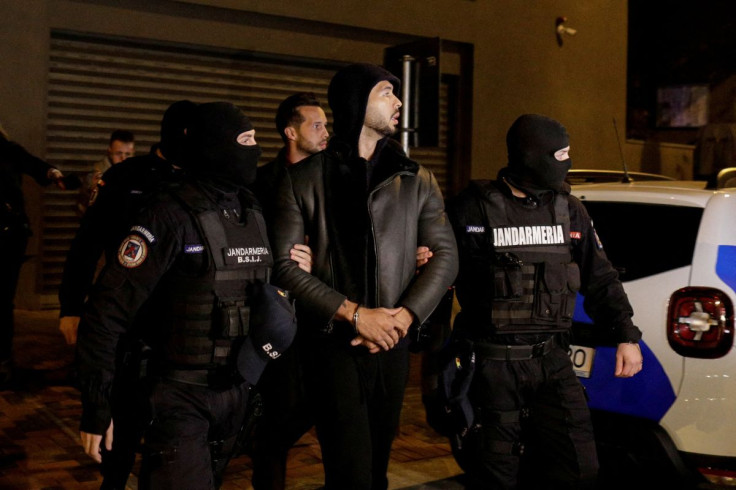 Andrew Tate, a controversial influencer, has been accused of rape, human trafficking, and leading an organized crime group for the purpose of exploiting women.
Alongside his brother Tristan and two associates, he is facing charges related to these offenses. All defendants have denied the accusations.
The Tate brothers were initially arrested at their residence in Bucharest in December. Subsequently, a Romanian judge granted a ruling in March to transfer them from custody to house arrest.
According to the indictment submitted to the Bucharest court, the four defendants allegedly formed an organized criminal group in 2021 to engage in human trafficking, not only in Romania but also in other countries such as the United States and the United Kingdom.
The indictment identifies seven purported victims who were allegedly lured by the Tate brothers with false promises of love and marriage.
According to Romanian prosecutors, the alleged victims were transported to buildings in Ilfov county, Romania, where they were subjected to intimidation, constant surveillance, and control.
They were also coerced into debt. Additionally, the defendants are accused of forcing the women to participate in pornography, which was subsequently shared on social media.
The statement further reveals that one of the defendants is specifically charged with raping a woman on two separate occasions in March 2022.
It is important to note that the trial will not commence immediately and is anticipated to span several years. Within the next 60 days, a Romanian judge will review the case files before it can proceed to trial.
The media team for the Tate brothers said: "While this news is undoubtedly predictable, we embrace the opportunity it presents to demonstrate their innocence and vindicate their reputation."
It added that the indictment "allows us to present a comprehensive body of evidence, diligently collected and prepared over time, which will undoubtedly substantiate the brothers' claims of innocence."
Furthermore, there are additional charges currently under investigation, which could result in a separate indictment. These charges include allegations of money laundering and trafficking of minors.
In 2016, Andrew Tate, a former kickboxer of British-American descent, was ejected from the British TV show Big Brother following the emergence of a video in which he appeared to assault a woman.
Subsequently, he garnered attention online and became notorious for his controversial statements.
Twitter even banned him at one point for suggesting that women should share some responsibility for incidents of sexual assault. However, he has since been reinstated on the platform.
Despite facing social media restrictions, Tate managed to gain popularity, especially among young men, by promoting a persona of hyper-masculinity and an ostentatious, extravagant lifestyle.
© 2023 Latin Times. All rights reserved. Do not reproduce without permission.