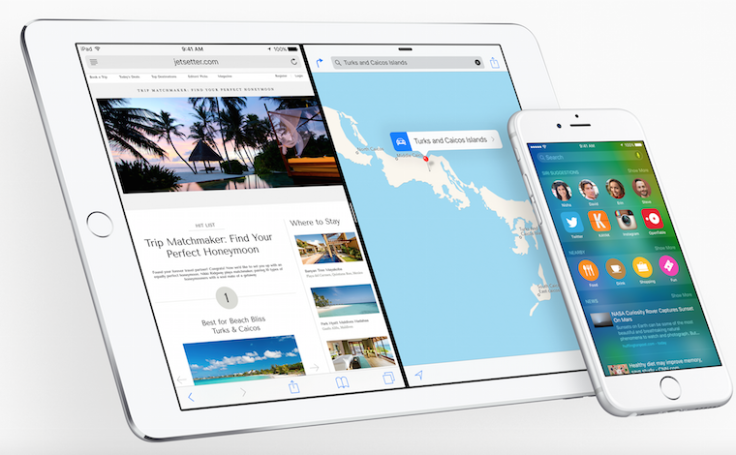 Apple has finally released its latest iOS 9 software for iPhone, iPad and iPod Touch. There are quite a few major changes to the software and much more smaller improvements as well.
Some of the highlights of iOS 9 include features like split-screen multitasking for the iPad, improvements to search and Siri, under-the-hood performance boosts, and revamped apps, but there are also dozens if not hundreds of lesser-known tweaks and refinements that make the iOS 9 experience better than ever before.
Apple makes updating to iOS 9 extremely easy as it is an OTA (over the air) update. If a message says that an update is available on your iOS device, tap Install Now. You can also follow these steps below:
1. Plug your device in to power and connect to the Internet with Wi-Fi.
2. Tap Settings > General > Software Update.
3. Tap Download and Install. If a message asks to temporarily remove apps because iOS needs more space for the update, tap Continue or Cancel. Later, iOS will reinstall apps that it removed. If you tap Cancel, learn what to do next.
4. To update now, tap Install. Or you can tap Later and choose Install Tonight or Remind Me Later. If you tap Install Tonight, just plug your iOS device in to power before you go to sleep. Overnight, your device will update automatically.
5. If asked, enter your passcode.
If you can't update wirelessly, you can update using iTunes. Check out these easy steps below to update using iTunes:
1. Install the latest version of iTunes on your computer.
2. Connect your device to your computer.
3. Open iTunes and select your device.
4. Click Summary, then click Check for Update.
While your device is updating check out all the hidden features found in Apples new software in the three videos below:
© 2023 Latin Times. All rights reserved. Do not reproduce without permission.