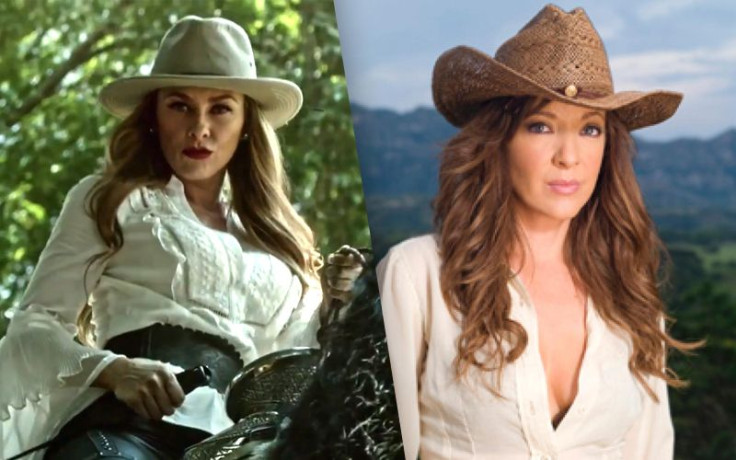 Aracely Arámbula's return to telenovelas as "Doña Bárbara" was one of the major announcements Telemundo had last week during their Upfront presentation. Not everyone was happy with the adaptation that's coming less than 10 years since Edith González portrayed the classic character. Genesis Rodriguez, who was part of the production, lashed out shortly after she was made aware "Doña Bárbara" was being remade. "I can't believe that they are remaking 'Doña Bárbara' so soon," she tweeted. "All the effort, hard working hours, sweat, love from all the crew... so they could erase it all that fast and easy? Another reason why I will stay doing what I'm doing."
Following Genesis' rant, Edith retweeted this message, which Aracely ended up reading. The "Los Miserables" star went a step further and directed a tweet to González. "With due respect and love Edith, Telemundo announced that they would make this project and I will realize it with heart, just like you guys," Arámbula wrote. "I saw your retweet. It was a decision made by the network. You made it marvelously. I love you, admire you and respect you." Aracely went further to remind everyone that melodramas that she's starred successfully in the past, are being remade. "Today they are making 'Abrázame Muy Fuerte' [as 'Que Te Perdone Dios'] and I applaud it Zuria Vega," Aracely wrote. "We all give our best and our heart in every project and it's a blessing."
After Aracely Arámbula came out to defend her new project citing Edith González, the latter actually replied to her. "Obviously you will do it very well my lovely Araceli," she said. "You are beautiful, talented and an excellent human beign. I love and admire you." Arámbula reminded everyone that this was not the first Edith telenovela remake she stars in. Remember the "Corazón Salvaje" adaptation? "It's an honor remaking your telenovelas like 'Corazón Salvaje,'" Ara wrote. "Let's hope that ['Doña Bárbara'] is a hit like yours." What do you think? Will the new "Doña Bárbara" be a hit with Aracely Arámbula?
© 2023 Latin Times. All rights reserved. Do not reproduce without permission.