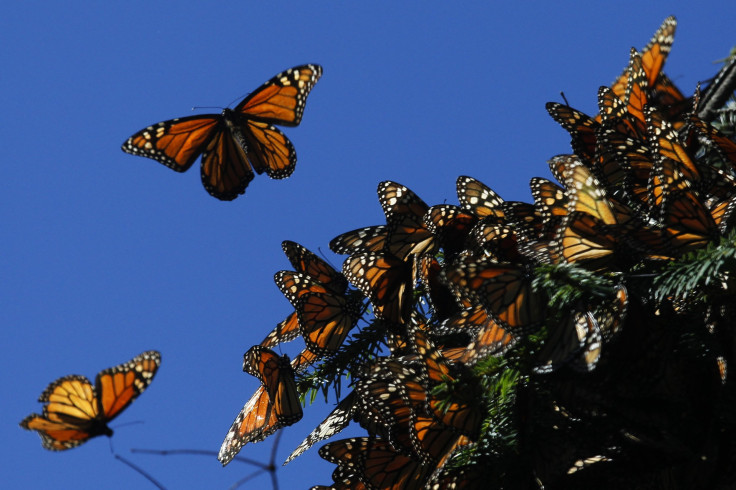 When the weather in the United States and Canada turns cold, monarch butterflies head south to Mexico for the winter, alighting in numinous black-and-orange clouds upon pine forests in the country's central and center-south regions. But in a new study carried out in pine and fir forests west of Mexico City, the World Wildlife Fund (WWF) says the migrants' ranks have thinned drastically this winter, falling over 40 percent from 2011-2012 and hitting the lowest levels since the organization began keeping records in 1993.
The Associated Press writes that the butterflies were observed to cover only 1.65 acres in the forests where the study was carried out, compared to 2.93 acres last year and over 44 acres at their peak in 1996. Over the past three years, numbers have declined steeply. The WWF attributes the drop in numbers to a decrease in the milkweed plant, which is a central source of food for monarchs, due to herbicide use in the butterfly's breeding and feeding grounds in the United States. It also says that extreme climate variations in the fall and summer have likely had a negative effect on the species' reproduction.
La Jornada notes that the news comes on the heels of the 20th anniversary of the North American Free Trade Agreement (NAFTA), which obliges Mexico, the United States and Canada to sign environmental accords protecting species which migrate through the region. The monarch, which passes through all three countries, came to be used as a symbol for NAFTA. Omar Vidal, director of WWF-Mexico, said in comments published by the organization that "the conservation of monarch butterflies is a responsibility shared by Mexico, the US and Canada." He added, "By protecting its sanctuaries and practically eliminating large-scale deforestation, Mexico is doing its part. It is necessary that the US and Canada also do their part and protect the habitat of the monarch in their countries."
© 2023 Latin Times. All rights reserved. Do not reproduce without permission.