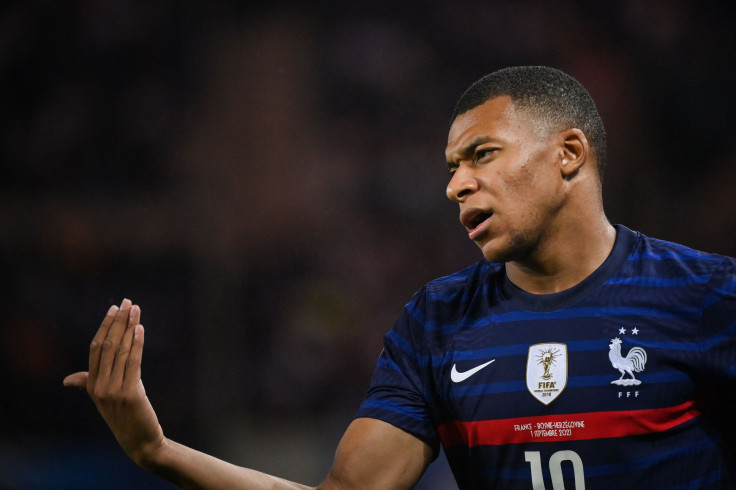 Argentina goalkeeper Emiliano Martinez mocked France forward Kylian Mbappe during Argentina's World Cup parade on Tuesday, Dec. 20.
During Argentina's World Cup parade on Tuesday, Dec. 20, Argentina goalkeeper Emiliano Martinez, who made incredible saves in the nation's World Cup final victory over France, was seen topless and standing next to Messi and holding a doll with a picture of a crying Mbappe stuck on its head, Fox News reported.
The rivalry between Martinez and Mbappe started at the beginning of the World Cup final. Before the World Cup final, Mbappe, the Paris Saint-Germain star, had criticized the preparedness of South American teams in comparison with the European squads that enter the tournament.
"The advantage we have in Europe is that we play among ourselves with high-level matches all the time, such as the Nations League," Mbappe said. "When we arrive at the World Cup, we are ready, whereas Brazil and Argentina do not have this level in South America. Football is not as advanced as in Europe. That's why at the last World Cups, it's always the Europeans who win."
However, Martinez dismissed Mbappe's comments, saying he didn't know what he was talking about.
Martinez was also given the Golden Glove award for being the best goalkeeper in the tournament. However, he held the award toward his groin area after receiving it in front of Qatari officials and raised eyebrows, Mirror reported.
"I did it because the French booed me. Pride does not work with me," he said about the act.
Argentina beat France in the penalty shootout in a pulsating game that was labeled by many as one of the best finals in World Cup history.
Argentina's remarkable victory over France on Sunday also put an end to a 36-year World Cup drought for the nation. Argentina hadn't won the FIFA World Cup since Diego Maradona and the team won the title in 1986.
Messi, who had declared before the World Cup in Qatar that the 2022 FIFA World Cup would be his last, won the Golden Ball for best player in the tournament. Meanwhile, Martinez was awarded the Golden Glove for best goalkeeper. Enzo Fernandez was adjudged the winner of the Best Young Player award. Meanwhile, Kylian Mbappe finished as the top scorer of the tournament with eight goals and received the Golden Boot.
© 2023 Latin Times. All rights reserved. Do not reproduce without permission.