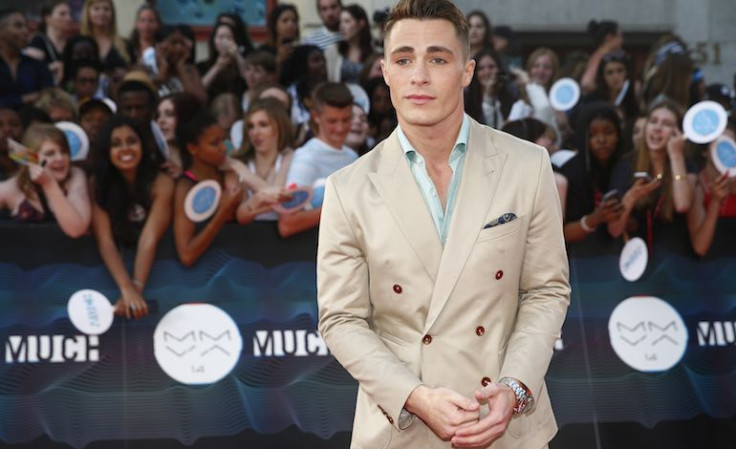 The CW has renewed "Arrow" for a fifth season and with Oliver (Stephen Amell) and team being down a member after losing Laurel (Katie Cassidy), there is an open spot available. The Internet is a buzz on who will come in and occupy the vacant spot but it looks like the Green Arrow's first sidekick Roy Harper, played by Colton Haynes, will help the team out.
According to Screen Crush, Haynes appeared at France's Justice squad Convention, where the former "Arrow" regular was reported as saying, "I get to come back on a few episodes of Arrow next year."
The former "Teen Wolf" actor made a brief return in the fourth season, having stepped down as regular from the third season. Haynes admitted in a recent Entertainment Weekly profile that he stepped away from acting due to some personal anxiety with coming out.
"I asked to step away because I cared more about my mental and physical health than my career at the time," Haynes said.
With the weight of the secret off Haynes shoulders, we are looking forward to seeing the actor back in the Arrowverse. Until then, check out these five exciting details about the fifth season below.
1. Cast promotion - The fifth season will be promoting fan-favorite Curtis Holt (Echo Kellum) to a series regular, with the character most likely working in the Arrow Bunker.
2. Villain details revealed - TV line scored the first real details regarding "Arrow's" fifth season villain. He is described as "a man on a mission" and "out as he is to avenge a tragic, violence loss from his own, years-ago past."
Furthermore, the website stated that the character is open to physically threatening actors of any ethnicity in their 20s or 30s and "James" must also be a charming killer. The description read: "… just as easily shake your hand as your best friend or break your neck as your worst enemy — and you never know which one is coming. Either way, he's more than capable of having a good time as he does it."
3. Season five plot - In an interview with TV Guide, co-showrunner Wendy Mericle revealed the fifth season will bring "big changes" to the dynamic on the show, and the clue to those changes is in the title of the finale episode, "Schism."
4. Thea may choose the dark side - In the same TV Guide interview, Mericle talked about what is in store for Thea and how her choice in the season finale will affect her in the coming season. Mericle said, "Thea had bloodlust earlier in the season and since then has been questioning her place on the team, and questioning whether or not she is Speedy, which goes back to her character's struggle with whether she's more of a Queen or a Merlyn. She's going to answer that question in [the finale] and come up with, what we hope, is a pretty surprising answer."
5. Oliver's flashbacks - One of the hiccups in season five has been the flashback sequences but "Arrow's" fifth season will mark the fifth year of flashbacks, which would then have the show caught up to the first season by the time we get to season six. Mericle talked with TV Line and gave an insight into where the flashbacks will lead in the coming season.
"I don't want to tip too much," the "Arrow" the co-showrunner said. "But it's a very good possibility that we'll finally find out how Oliver got that Bratva tattoo and how he learned to speak Russian."
© 2023 Latin Times. All rights reserved. Do not reproduce without permission.