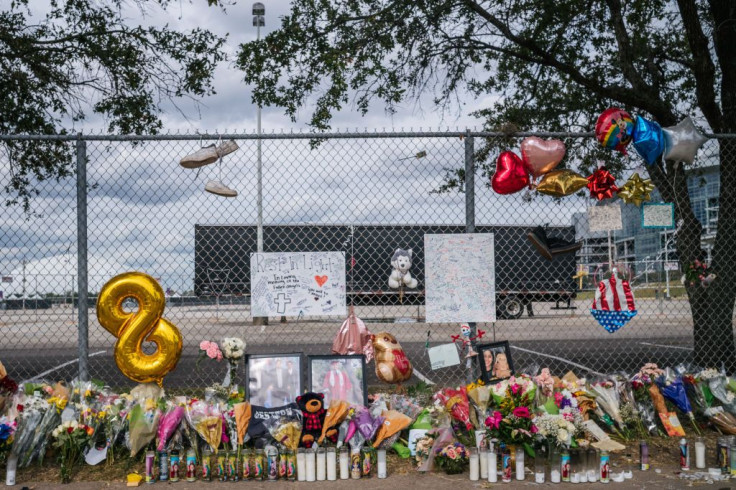 Hundreds of people flocked to Ezra Blount's funeral service Tuesday, as they paid their last respects to the youngest victim of the tragedy at the Astroworld Music Festival in Houston. The service began at 11 am at the Inspiring Body of Christ Church in Dallas where a large monitor showed a video montage of the young boy having fun at birthday parties and playing outdoors as he lovingly embraced his family.
While family, friends, and crowd mourners gathered to view the boy's body, the gospel song "Take Me To The King" played as he lay in a red casket with a brand of Fortnite's video game. The 9-year-old boy was said to be a fan of everything Travis Scott was affiliated with. From his Fortnite game partnership to his McDonald's meals. Since the concert tragedy, Epic Games has removed Scott's Out West emoticon from their store.
In an interview with CBS 11, Blount's great aunt Gwen Thomas described how she felt upon learning news of the boy's tragic death. "His life was cut short for a fun event, what should have been a fun event… a nice event," Thomas said as she told media that the family was not yet prepared to let the young boy go. Ezra was laid to rest at the Lincoln Memorial Park.
The child had gone to the concert with his father, Treston. He and his father shared a love for video games, music and are both fans of Scott. As questions still linger on how the tragedy came to be, many have also weighed in on how such a young boy was at a concert deemed mostly for an adult audience due to the rampant profanity in the performers' music.
Both father and son were in the crowd when a sudden crowd crush ensued causing the boy's father to lose consciousness while he had propped his son on his shoulders. He collapsed and woke up only to find out that his son had fallen to the ground and got trampled on by the maddening crowd.
Ezra was placed on a ventilator while in a medically-induced coma because of his massive organ damage and swelling in his brain. He died a week after the concert.
Meanwhile, numerous lawsuits continue to pile up against the event's organizers, along with the venue management as well as Scott and Drake. The show's promoter Live Nation has offered to help with hospital costs and mental health counseling for concertgoers affected by the tragedy. Scott also pledged to shoulder funeral costs for all victims, including Ezra's funeral service.