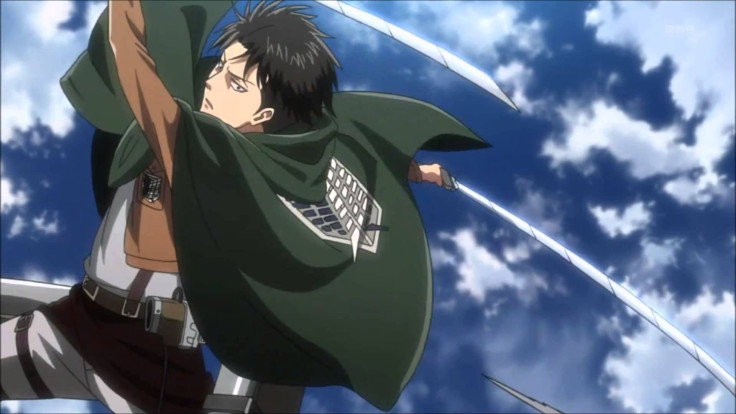 Fans are still waiting for an official release date for the popular anime "Attack on Titan." While we know it won't arrive until sometime in 2016 that has not slowed down any of the rumors about the coming season. So many rumors have been floating around the web about season two but this latest bit of news is the juiciest yet as it hints at a major characters death.
Perhaps the biggest rumor of them all is Captain Levi Ackerman's death. According to PIXISSUUU via Christian Today, chapter 73 of "Attack on Titan" will focus on Levi's death. A member on Manga Helpers points out that the chapter will show Captain Levi saving the members of his new squad, the Shiganshina trio; Eren Yaeger, Mikasa Ackerman and Armin Arlert.
Furthermore, Crossmap reports season two will also feature a "Clash of Titans" story arc, which will unveil the true identity of lovers Ymir and Krista Lenz. The website also reveals Ymir is a titan that has been roaming the wall for years before reverting back to human form, only after eating Marcel. Even more, Lenz is a Historia Reiss, daughter of Rod Reiss, who is the rightful successor of the power of the Coordinate.
Other rumored spoilers include the presence of an ape-like titan referred to as the beast titan, who also has high intelligence for a titan reports KPopStarz. Plus season two will finally reveal the true identities of the Colossal Titan and the Armored Titan, which is said to be none other than Bertolt Hoover and Reiner Braun. Of course we won't know that for sure until the new season premieres.
The storyline for season two will follow the 104th Trainees Squad as they fight against the titans who have penetrated Wall Rose. It will also follow the story of overthrowing the king due to all his corruption. The uprising will be led by Captain Erwin Smith.
We'll have to wait until late next year to see any new anime for "Attack on Titan" as the show has already caught up with the manga. Season one covered a total of four story arcs including: "The Fall of Shiganshina," "104th Trainee Squad," "Battle of Trost District" and "The Female Titan."
So far the manga is only two story arcs ahead of the "Attack on Titan" anime and director Tetsuro Araki wants to wait until he has enough content to fulfill the entire second season.
© 2023 Latin Times. All rights reserved. Do not reproduce without permission.