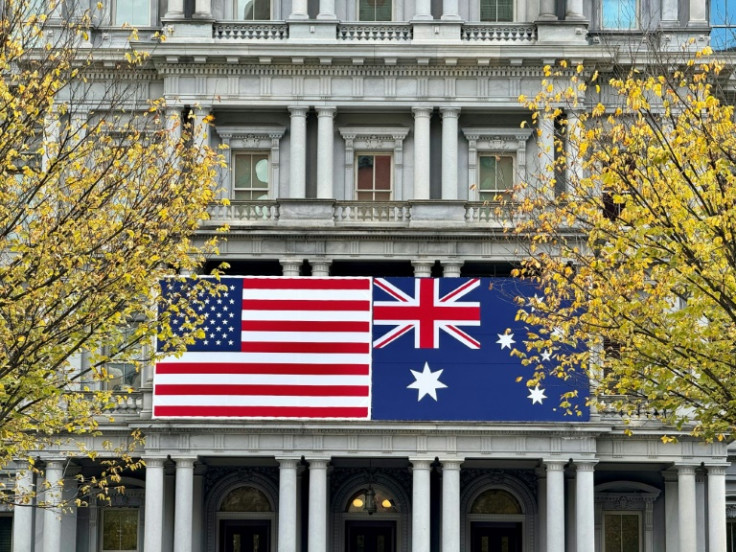 Australian Prime Minister Anthony Albanese will receive a lavish welcome from US President Joe Biden at the White House this week, with talks about China and Ukraine on the menu.
The pomp-filled state visit comes as Washington looks to reinforce its ties with longtime ally Australia as part of a broader strategy to counter Beijing in the Asia-Pacific region.
Albanese, who will be honored with a gala state dinner, is meanwhile seeking to keep Biden focused on Australia's neighborhood while the Israel-Hamas and Ukraine conflicts rage on the other side of the world.
"It will be an important visit," Albanese said Sunday before leaving. "The alliance between Australia and the United States is central to Australia's foreign policy."
Albanese arrives at the White House on Tuesday before the official state visit takes place on Wednesday, featuring talks with Biden in the Oval Office and a joint press conference in the iconic Rose Garden.
The state dinner on the South Lawn of the White House will reportedly include a show by US new wave band the B-52s.
Giant Australian and US flags have already been draped over a key building that forms part of the White House complex, while smaller pennants adorn lampposts along Pennsylvania Avenue.
Biden invited Albanese after the US president was forced to cancel a scheduled visit to Australia in May at the last minute and return to Washington to work on a deal to avoid a catastrophic US default.
Washington has been boosting its ties with Australia in recent years, including with the landmark AUKUS security pact -- which also involves Britain.
Discussions on the pact are expected to be a prominent feature of Albanese's visit.
"It's very important that we remain focused on the Indo Pacific region," the Australian told a news conference on Sunday, using the allies' term for the Asia-Pacific region.
While trying to counter China, both countries are also trying to stabilize relations with the world's second biggest economy.
Albanese announced on the eve of the trip that he would visit China in early November for talks with President Xi Jinping. Biden meanwhile may meet Xi at a summit in San Francisco between November 11 and 17.
But Ukraine and the Middle East are also set to come up, with both Washington and Canberra providing military aid for Kyiv's fight against the Russian invasion.
"We believe that there's no more important time than now to have this visit with the Australians," White House Press Secretary Karine Jean-Pierre told reporters on Monday.
She said it was vital to "demonstrate our strength and partnership... as we are continuing to see the invasion that continues in Ukraine."
The political chaos in Washington, where the US Congress is paralyzed by feuding Republicans' inability to elect a new speaker, will also come up.
Albanese is due to visit Congress and said he would be "very supportive" of the $106 billion security package that Biden is asking lawmakers to pass -- which includes Ukraine funding and money for the AUKUS pact.
© 2023 Latin Times. All rights reserved. Do not reproduce without permission.