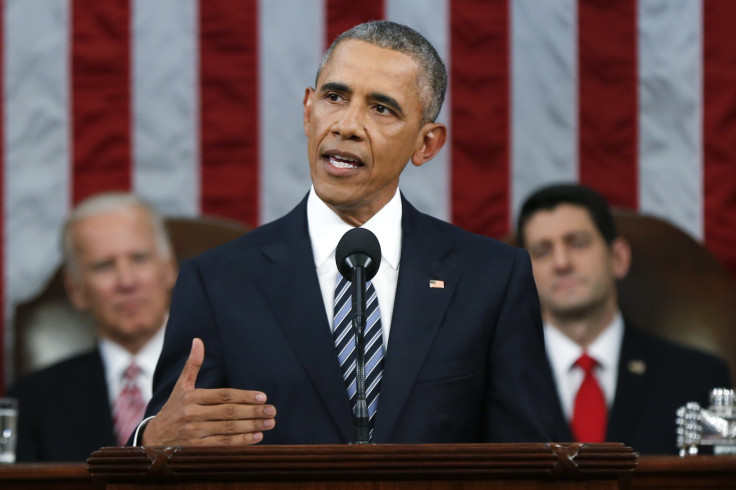 Immigration raids did not make it into President Barack Obama's final State of the Union. Instead of focusing on controversial legislation that has dogged his presidency, Obama opted to speak in broad strokes saying that he would "go easy on the traditional list of proposals." Instead, he spoke America's leadership in the world, security, general economic growth and voting reform. Though immigrants were mentioned many times during the speech their cameo was usually part of a rainbow coalition of a larger theme.
The silence on immigration follows a rift on Capitol Hill between Obama and leading Democrats in the legislature. Over a hundred immigrants were detained in January in a door-to-door roundup of Central American migrants, many of whom has tried, but failed, to secure refugee status.
"I think you're going to find a pause in these deportations," Reid told reporters on Tuesday, according to The Hill , following a meeting with DHS Sec. Jeh Johnson, who oversees ICE, the agency that conducted the raids.
Obama mentioned immigrants half a dozen times in his speech, saying that "immigrants aren't the reason wages haven't gone up enough; those decisions are made in the boardrooms that too often put quarterly earnings over long-term returns" and that "spirit of discovery is in our DNA. [....] We're every immigrant and entrepreneur from Boston to Austin to Silicon Valley racing to shape a better world."
At the end of his speech, the president focused what he said were problems for the political system. He called on congress to explore alternatives to partisan redistricting, reduce the flow of money into politics and make it easier for citizens to cast their votes.
"Those with money and power will gain greater control over the decisions that could send a young soldier to war," he said "or allow another economic disaster, or roll back the equal rights and voting rights that generations of Americans have fought, even died, to secure. As frustration grows, there will be voices urging us to fall back into tribes, to scapegoat fellow citizens."
Immigrants also made a cameo in Obama's closing remarks, as he quoted Dr. Rev. Martin Luther King Jr., saying is saw "voices of unarmed truth and unconditional love," citing a worker, an ex-con a soldier and "the Dreamer who stays up late to finish her science project, and the teacher who comes in early because he knows she might someday cure a disease."
Obama has mentioned Dreamers in nearly every one of his State of the Union addresses, urging congress to pass comprehensive immigration reform or, barring that, special protection for immigrants in the U.S. illegally who were brought to the country by their parents.
Immigration advocates complained that he did not make reform a priority during his first term. A 2013 push for comprehensive immigration reform fell short. Currently, millions of immigrants in the country illegally benefit from executive actions meant to provide temporary relief, some in the form of work permits.
Ultimately, the question of what to do with the country's 11 million unauthorized immigrants has been tabled for the 2016 election, and a Supreme Court case that could be decided as early as June.
© 2023 Latin Times. All rights reserved. Do not reproduce without permission.