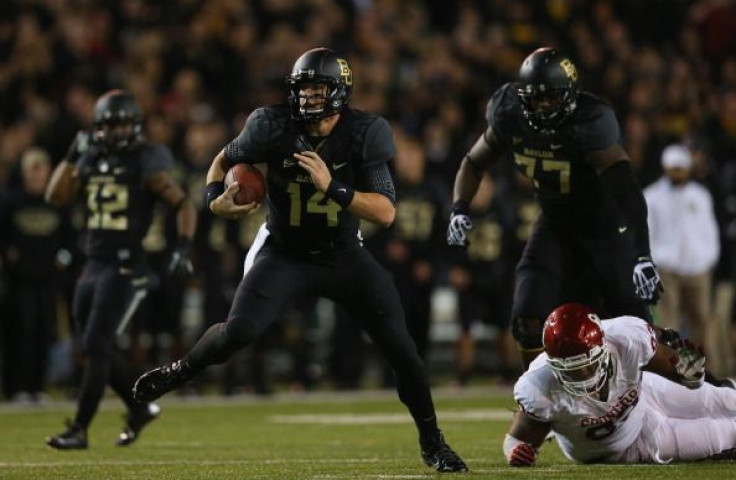 Most loyal followers of college football probably expected the Baylor Bears to be an explosive offense throughout the 2013-2014 season. With quarterback Bryce Petty leading the charge and stud receivers Antwan Goodley and Tevin Reese providing extreme weapons on the outside, the Bears appeared ready to be competitive once again in the talented Big 12. Thanks to the addition of a dominant defense and the unbelievable play of junior running back Lache Seastrunk, the Bears enter week 12 of the season as the No. 5 team in the country while possessing an unblemished 8-0 record. They've also become the darlings of the nation, with many fans pulling for the Bears to complete a perfect season.
Though watching an offense that currently ranks first in points and third in passing yards has certainly been enjoyable for Baylor fans and college football fans in general, news coming that Tevin Reese will miss the upcoming showdown against Texas Tech did not go over well in Waco. Forced to play without a receiver who averages over 100 yards per game, head coach Art Briles - owner of a brand new 10-year contract - understands his team must compensate for the loss but is also confident in the ability of the rest of his team, including running back Shock Linwood, who averages over 85 rushing yards per game, while serving as a great compliment to Seastrunk.
"I'm eager to see how it changes from a schematic standpoint and a philosophical standpoint," Briles said about the absence of Tevin Reese. "We're going to have to kind of change how we think and how we feel without Tevin because he's the fastest receiver in America. We'll have to compensate in a variety of ways. Shock's performance this season was non-surprising to all of y'all that have watched us playing this year. The thing that has helped is we've been able to play these guys, some good Saturday quality playing time in meaningful games. Shock plays with a tremendous amount of passion and confidence and delivers."
Hoping to hand Baylor its first loss of the season and snap a three-game losing skid of their own, the Texas Tech Red Raiders and head coach Kliff Kingsbury will look to get back to form when they travel to AT&T Stadium in Arlington this weekend. The Raiders opened the season with seven-straight wins before dropping the last three to Oklahoma (38-30), Oklahoma State (52-34) and Kansas State (49-26). Despite the recent struggles however, Kingsbury maintains complete confidence in his team after falling to three formidable opponents.
"We've lost to three really good football teams and turned it over a bunch, and had more penalties, and just things you can't do when you're playing teams of that quality," the first-year coach and former Red Raider quarterback said. "If we play a better, more consistent game, we feel like we have a chance to get back on the winning side of things."
No matter who you root for, the Saturday night showdown in Texas will be one you won't want to miss.
Baylor Bears vs. Texas Tech Red Raiders: DATE, TIME & TV INFO
DATE: Saturday, November 16
TIME: 7:00pm, ET
TV COVERAGE: FOX
LIVE STREAM: CLICK HERE
© 2023 Latin Times. All rights reserved. Do not reproduce without permission.