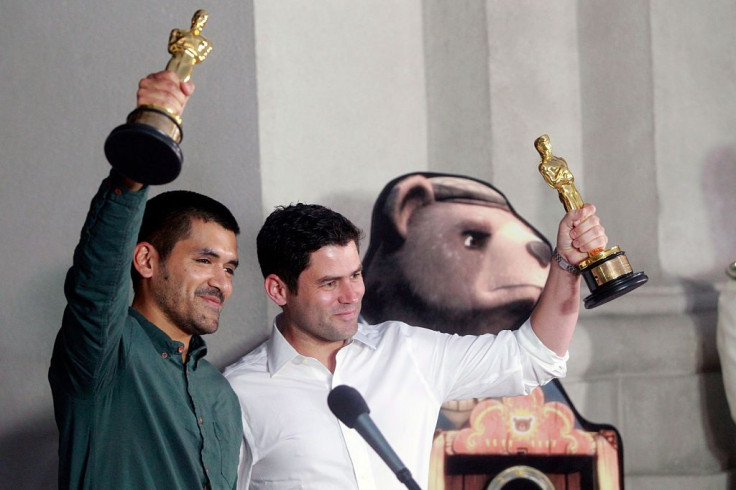 The guys from Punk Robot Studio in Chile, Gabriel Osorio and Patricio Escala are down to earth and humble but have big dreams for the animation scene in their home land. One big dream just came true at the Academy Awards when they won the first-ever Oscar for their country and the first-ever animation Oscar for Latin America. All of this thanks to their dedication, belief and hard work for over four years on their mesmerizing and moving animated short film "Bear Story."
Osorio and Escala were part of the Tag CDMX conferences in Mexico City on June 29, where they told the story, not just about their award-winning animated short film, but about the origins of their ideas, the lack of funding and the need for better children's programming in Chile.
It all started when the two detected a great need for quality animated content and immediately got to work on a series for preschoolers called "Flipos." The thing was, every time they wanted to continue making more episodes, they ran out of money because TV networks had no interest in buying any of them. However, this did not mean they gave up. "Bear Story" was an idea they were not going to quit, so the two found ways to fund their projects by selling two of their animated series to Netflix: "Flipos" and "Muelin y Perlita," which gave them enough fuel to continue working on their star short film.
The project for "Bear Story" began in 2009, inspired by the exile of Osorio's grandfather during the military government in Chile. The short film shows, in the most beautiful and moving way, how families are being destroyed in all parts of the world, for many different political reasons, and the devastating effect it have on individuals. "Everything begins with an idea," Osorio said about wanting to tell his family's story. "As for what is going to decorate that idea and the elements that you'll use to tell the story: trust your gut."
Osorio and Escala partnered up with Animation Director Antonia Herrera and Art Director Mari Soto-Aguilar to complete their project over four years later after they started, and voila! A beautiful, award-winning short film came to life.
They both insisted throughout the talk that the sole purpose for making "Bear Story" was to shed light on the need for good animation in Chile, which could communicate potent messages through quality content. The rest of what happened (including going to the biggest animation studios, meeting their idols, campaigning for their film and then actually winning an Oscar), was just a "surreal dream come true," as they said.
© 2023 Latin Times. All rights reserved. Do not reproduce without permission.