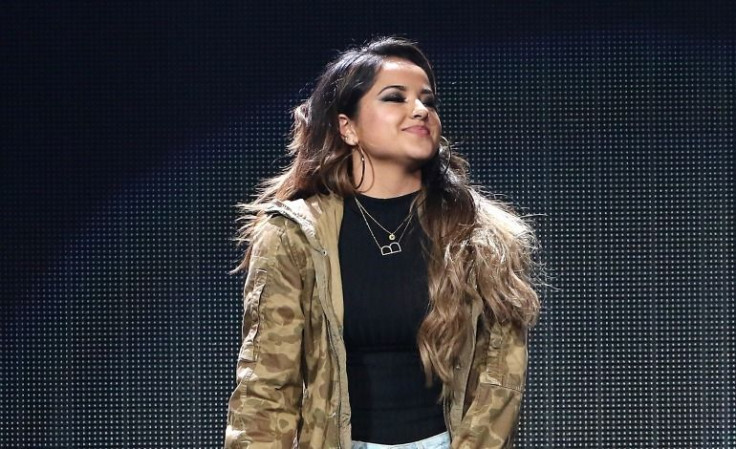 Pop singer Becky G will take part in one of the biggest Latin music concerts of the year, Calibash 2016, which will be held on January 24 in Los Angeles, CA. with a very special guest performance soon to be announced. The Mexican-American singer premiered three brand new songs on December 21, 2015. The new tracks are titled "Good At It", "The Lights" and "Stutter," a coverof a single by artist Joe featuring Mystikal, popularized in the '90s and early 2000s. Becky made it her own by adding a rap verse to give the song a fresh take.
"Stutter" was so well received by fans it prompted a worldwide Twitter trend with the hashtag #beckysback. "Here is a song I re-made with some great friends of mine. Crazy how just hanging out in the studio one day listening to old songs that I loved turned into this," said the songstress. "I LOVE this song and wanted to cover it because it makes me feel some type of way."
In August, the singer-songwriter premiered "Break A Sweat" which is the lead single off her upcoming debut album due out later this year. The song was written by Chloe Angelides, Lukasz Gottwald, J. Kash (Jacob Kasher Hindlin), Gamal Lewis, Henry Walter and Emily Warren and produced by Dr. Luke and Cirkut for Prescription Songs.
To add to her long list of commitments, the singer guest starred in Fox's television hit series "Empire". It was also confirmed that the multi-faceted artist will be part of the new "Power Rangers" movie as the Yellow Ranger, which will be produced by Lionsgate. The singer recently ended her tour with Latin urban music sensation J Balvin, and is currently in the studio finishing her debut album due out later this year. Becky G is signed with Kemosabe / RCA Records.
© 2023 Latin Times. All rights reserved. Do not reproduce without permission.