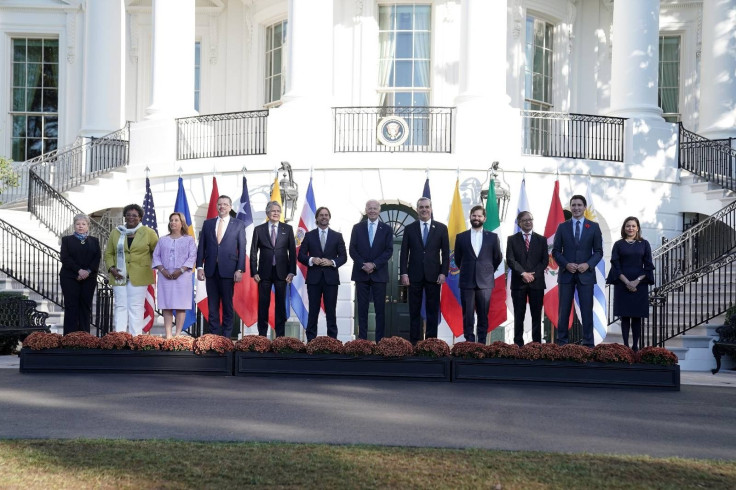 U.S. President Joe Biden pledged billions of dollars for infrastructure projects across the Western Hemisphere this Friday. He did his initial remarks at the Americas Partnership for Economic Prosperity Leaders' Summit, which gathered leaders from 12 countries at the White House.
Concretely, Biden said that the US International Development Finance Corporation, and the Inter-American Development Bank will launch a "new investment platform to channel billions of dollars toward building sustainable infrastructure in the hemisphere."
The programs' goals will be to "strengthen critical supply chains, have modern ports, clean energy grids and digital infrastructure, all building blocks for a resilient and competitive economy."
Biden then threw a not-so-veiled jab at China, the country's main competitor in the region, saying the U.S. wants to "make sure our closest neighbors know that they have a choice between debt-trap diplomacy and high-quality transparent approaches to infrastructure and development."
Biden also announced the launch of the Americas Partnership Accelerator, a "multi-year" program aimed at "helping promising entrepreneurs develop and fund their ideas." "Canada is also funding the program and Uruguay is leading an angel investor network to support it," he added.
The event is one of the largest-ever gatherings of leaders from the Americas at the White House, with representatives from Canada, Chile, Colombia, Costa Rica, the Dominican Republic, Ecuador, Mexico, Panama, Peru and Uruguay in attendance. Before the summit, they met with Treasury Secretary Janet Yellen. On Thursday, Biden held a bilateral meeting with Chilean President Gabriel Boric.
In another passage of his speech Biden addressed migration, a salient issue in his domestic agenda as border crossings continue breaking records. He said that the U.S. and its partners in the region are working to "manage the challenges of unprecedented migration flows" and described a three-legged approach to do so.
"Working together to stabilize migrant populations, including making sure communities that are welcoming migrants and refugees can afford to welcome care for them."
"The U.S., Canada and Spain are contributing to an IDB grant facility so countries that are providing migrants legal status can support the critical services necessary so they live safely and with dignity."
"Expanding legal pathways to promote safe and orderly migration by providing worker permits that allow migrants to contribute to our economies, as well as enforcing immigration laws in a humane and effective way to deter irregular migration and disrupt traffickers."
According to Customs and Border Protection data, over 3.2 million people arrived in the United States in fiscal year 2023, including people with a legal status and those apprehended for illegally crossing the border. Most of those who were apprehended were nationals of Western Hemisphere countries. Moreover, in September of this year, some 200,000 migrants crossed the U.S.-Mexico border, which set the record for most border crossings in a month.
Bloomberg reported that the White House envisions the summit as a platform that will reunite leaders every couple of years with ministerial work in between.
Semiconductor efforts
The White House also emphasized the push the Biden administration is making on its technology and innovation agenda, specifically to develop a semiconductor workforce in the Americas.
One initiative is the series of symposiums the State Department is holding. The first of them will be in Costa Rica in 2024, the White House spokesperson said.
"Hosting the first symposium in Costa Rica will also highlight the Costa Rican government's leadership in establishing a public-private Center of Excellence under the Americas Partnership to provide technical training for the region related to semiconductors, cybersecurity, and other high-tech digital economy fields. Linkages established through the symposium among regional technical institutions, academic partners, and industry will also support Costa Rica's center," the spokesperson said.
© 2023 Latin Times. All rights reserved. Do not reproduce without permission.