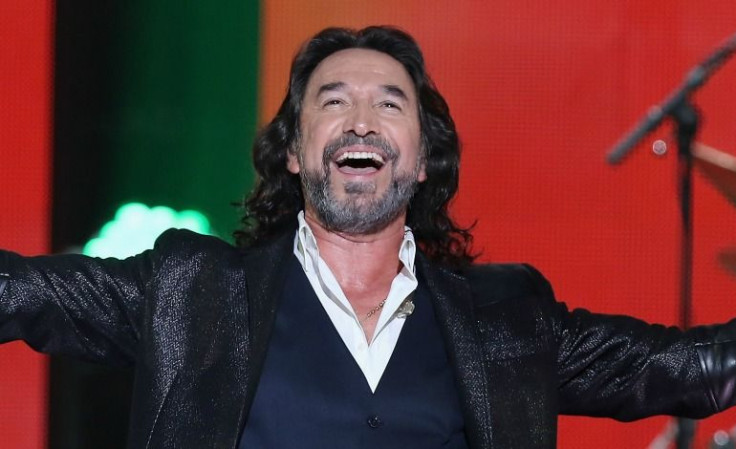 Marco Antonio Solis has been in showbiz since he was six years old. Now, the 56-year-old star is recognized for his outstanding career, which includes multiple Latin Grammy wins, No. 1 hits on the Billboard Charts, more than 300 songs recorded, and over 20 albums released. Because of his remarkable trajectory that runs for five decades, the Mexican singer will receive the Lifetime Achievement Award at the 2016 Billboard Latin Music Awards.
Solis, who became a household name in the mid '70s when he was part of Los Bukis, is preparing for the forthcoming award ceremony, where he is also finalist for Latin Pop Albums, Artist of the Year, Solo against Juan Gabriel, Ricky Martin and Selena Quintanilla. As the Latin Billboards approach. Solis talked to Billboard's Leila Cobo about the key to his success. "If they asked me to give a songwriting class, I'd be a failure! I write from my heart. I can't repress my emotions," he told Cobo in an exclusive Billboard interview. "I still like to write on paper, because I feel more in touch with the words. You see my scrawls, my corrections -- and along the way, I find myself," he added.
On that note, he also talked about the top three hits in his career: "Tu Carcel," "La Venia Bendita" and "Si No Te Hubieras Ido." Check out what he said of each in his exclusive with Latin Billboards.
TU CARCEL (1987)
"This was a key track. It was born at a time of much stress and exhaustion, in a little hotel in Torreón [Mexico]. I was drained, and in the midst of that weakness, this song was born. I discovered that when we set aside our analytical brain, that's the moment of greatest beauty. I simply let my inspiration flow at a time when I had no intention of writing a song. This song connected with the audience because it was made up of sincere, open phrases. And 'Tu Cárcel' won an RIAA Diamond Award in Mexico for 1 million copies sold. Since then, I only write based on inspiration. I never force it."
LA VENIA BENDITA (1997)
"I've never written a song faster. I did it on a plane ride between Mexico City and Cancún, and I wrote it on the napkin they gave me with my peanuts. Then I grabbed my little tape recorder and went into the bathroom to sing it. It was for my second solo album, a mariachi album. The track spent 172 weeks at No. 1 in Colombia, the second-biggest market for mariachi. It broke records. I went on a tour to Bogotá, and they made me sing it three times one night."
SI NO TE HUBIERAS IDO (1999)
"I always say: It's a blessed song. How else did it reach three generations? I wrote it in 1983. Marisela recorded it first. Then I recorded it in 1999, and new listeners thought it was new. Then Maná recorded it in 2005, and once again, it was rediscovered. It's a song that can be 'dressed' for any generation."
The 2016 Billboard Latin Music Awards will air at 8 p.m. ET on April 28 via Telemundo.
© 2023 Latin Times. All rights reserved. Do not reproduce without permission.