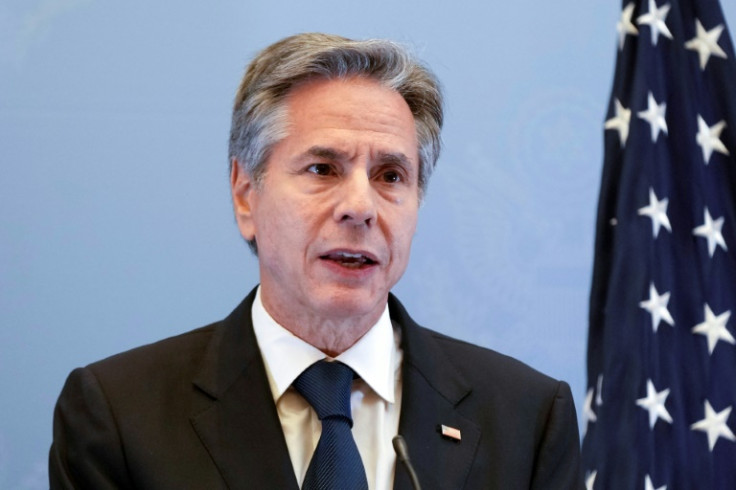 US Secretary of State Antony Blinken on Friday began a tour of Arab capitals as he seeks to build pressure on Hamas while Israel readies a likely massive offensive on the Gaza Strip following the militants' attacks.
The top US diplomat will meet Jordan's King Abdullah II, a longtime US partner, and Palestinian president Mahmud Abbas in Amman and will then visit Qatar, Saudi Arabia, Egypt and the United Arab Emirates.
Blinken spent Thursday in Tel Aviv where he promised unwavering solidarity to US ally Israel after the surprise October 7 offensive by Hamas, who killed over 1,200 people and took about 150 more hostage.
The United States has publicly blessed reprisals by Israel, which on Friday called for the immediate relocation of 1.1 million people in the Hamas-ruled Gaza Strip, which is already under an Israeli blockade.
Israel has killed more than 1,400 people in strikes in the Gaza Strip since the Hamas attack and has cut off food, water and electricity.
Qatar, where Blinken will head immediately after Jordan, has longstanding ties with Hamas and has been seen as an intermediary in freeing the hostages.
"We'll continue pressing countries to help prevent the conflict from spreading, and to use their leverage with Hamas to immediately and unconditionally release the hostages," Blinken said late Thursday in Tel Aviv.
"We'll also discuss how we can continue to make real our affirmative vision for a region that's more peaceful, more prosperous, more secure, more integrated.
"In fact, that is the choice, and the choice in some ways has been made even more stark by the actions of Hamas."
Saudi Arabia in the weeks before the attacks had spoken of progress in US-led diplomacy to normalise relations with Israel -- a landmark step for the conservative kingdom that is guardian of Islam's two holiest sites.
Few expect the momentum to be maintained, with the Saudis joining Qatar in blaming Israeli policies towards the Palestinians for the flare-up in violence.
US officials are working with Egypt, which also borders Gaza and was the first Arab country to make peace with Israel, on a plan for a safety corridor from Gaza.
Blinken said he spoke to Israel "about possibilities for safe passage for civilians who want to leave or get out of the way in Gaza".
The nearly 88-year-old Abbas, whose Palestinian Authority enjoys small levels of autonomy in the West Bank, is a longstanding foe of Hamas, whose control of the Gaza Strip has led to a 17-year Israeli blockade.
The United States under President Joe Biden and other Democrats has largely been supportive of the Palestinian Authority, seeing it as the best option for long-term peace with Israel.
But Israeli Prime Minister Benjamin Netanyahu has long sought to sideline the Palestinian Authority and Abbas, saying he is insufficiently committed to stopping violence, with the hard-right Israeli government rejecting the prospect of a two-state solution.
Abbas made his first public remarks on the conflict on Thursday after meeting King Abdullah.
Abbas called for "an immediate end to the comprehensive aggression against the Palestinian people" and rejected "practices related to killing civilians or abusing them on both sides".
Blinken earlier spoke to Abbas by telephone about the attacks, urging him to condemn the violence and maintain stability in the West Bank.
© 2023 Latin Times. All rights reserved. Do not reproduce without permission.