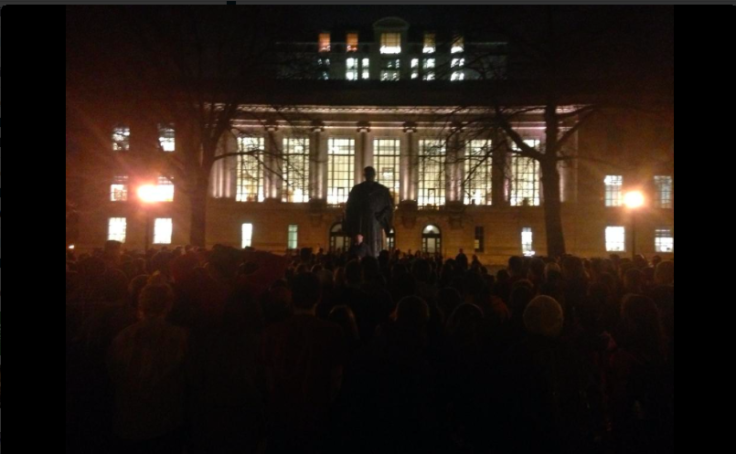 The body of Ohio State football player, Kosta Karageorge has been found by police in Columbus inside of a dumpster. Karageorge went missing on Wednesday evening after disappearing from the Ohio State campus. He texted his mother that he was sorry if he was "an embarrassment," and then was never heard from again. Karageorge was 22 years old.
According to a police spokesman, Karageorge's body was found inside of a dumpster a few miles away from campus. Police are still investigating the death, but believe that Karageorge died from a self-inflicted gunshot to the head. The gun was found inside the dumpster with his body.
"At this time, there's a lot of questions that we're still trying to work out," said Sergeant Rich Weiner of the Columbus police. "But he was found inside of the dumpster, the handgun was found inside of the dumpster with him. At this time we are able to confirm through tattoos here at the scene that it is the body of Kosta Karageorge."
Karageorge was supposed to be on the field on Saturday during Ohio State's rivalry game versus Michigan. Karageorge was recognized with his other senior teammates before the game and was given a moment of silence as his absence was strongly felt on the team. Ohio State won the game 42-28, and after the game, head coach Urban Meyer urged Karageorge to come home. On Sunday evening, he tweeted this:
Karageorge was also a wrestler for Ohio State and walked on to the football team as a defensive lineman this August. His mother told police that her son had suffered from multiple concussions and had spells of confusion. She believes this is part of the reason why he went missing.
On Sunday, the Ohio State Department of Athletics released the following statement on behalf of the University.
"The Ohio State University Department of Athletics was shocked and saddened to learn today of the death of student-athlete Kosta Karageorge, a senior from Columbus. Our thoughts and prayers are with the Karageorge family, and those who knew him during this most difficult time."
© 2023 Latin Times. All rights reserved. Do not reproduce without permission.