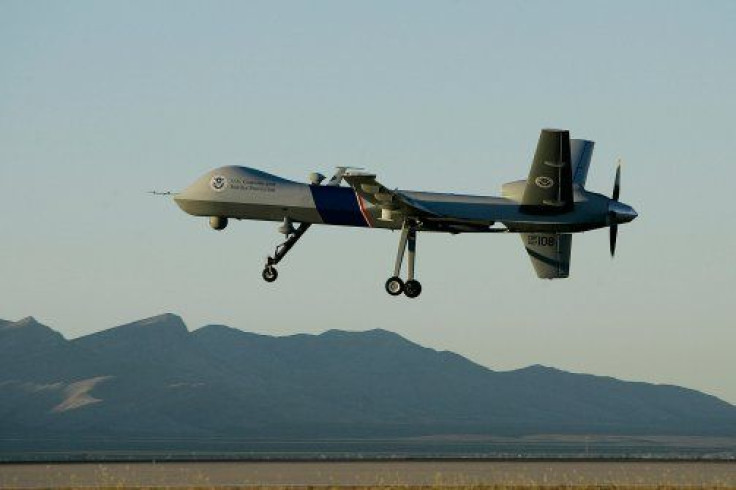 A group of key Republican and Democratic senators have worked out a compromise on a border control amendment to the Senate's immigration reform bill which would pump even more money than the $3 billion already allotted by the legislation into monitoring and apprehension efforts along the US-Mexico border. Part of that funding will go toward VADER (Vehicle and Dismount Exploitation Radar), a sensor mounted on unmanned drone aircrafts which was initially developed for use in the Afghanistan War and which may prove crucial to the hopes of undocumented seeking permanent resident status and eventual citizenship.
RELATED: Senators Reach Bipartisan Deal On Border Security Amendment
If the reform is passed into law, the Border Patrol would have five years to prove it can apprehend or turn back 90% of would-be crossers along what are deemed "high-risk" zones of the border, where the number of apprehended people exceeds 30,000 people a year. If this goal isn't achieved, a Border Oversight Task Force of border-state governors, law enforcement, civil rights advocates, business representatives, Border Patrol officials and other representatives would be established to make recommendations to the Department of Homeland Security. Another five years and $2 billion would subsequently be granted to the Border Patrol to meet those goals. Only after the goals are met could previously undocumented immigrants become eligible for permanent resident status and, down the line, citizenship.
It would be indispensable, then, that the Border Patrol be capable of keeping a highly precise tab of how many people try to cross.
1. D.C. defense contracting firm Northrop Grumman developed it with sponsorship from the Pentagon's research arm, the Defense Advanced Research Projects Agency.
Northrop Grumman launched research on it in 2006, with the goal of creating and testing a new radar system within two years, for the purposes of aiding US forces in spotting insurgents burying explosive devices in Afghanistan. It's collected about $188 million in contracts related to the project in total, according to the Center for Investigative Reporting. The Army announced in February the firm would be awarded a sole-source contract for continued use of two VADER systems in Afghanistan and another in the US through the end of 2013.
RELATED: Watch Mark Zuckerberg's New Pro-Immigration Ad 'Emma'
2. It's already been put into (limited) use.
In 2009, it was tested along a 31-mile stretch of the Arizona border. Since March 2012, according to the Center for Investigative Reporting, VADER has been patrolling the border in Arizona, the state which the Border Patrol says receives the most border crossings. And it has showed that previous estimates about how many people crossed the border - these according to the US Government Accountability Office - were much lower than the reality. The GAO had reported a 5-to-1 ratio of apprehensions to "got-aways" in the Tucson sector of the border (the most highly trafficked sector) in 2011. But VADAR data showed Border Patrol agents apprehended well under half of the total number of illegal border crossers.
It was also credited with surveillance that led to the seizure of 15,135 pounds of marijuana and 52 arrests.
RELATED: John Morton Resigns As Immigration And Customs Director
3. It can detect the presence of people from as high as 25,000 feet.
The Predator drone aircraft which it's mounted on can fly above bad weather or dust storms that might otherwise make it too dangerous to operate. VADER works sending signals to ground stations which display humans as moving dots or black-and-white images - it can even differentiate between humans and animals. Popular Science reports that it's only useful in areas where people are scarce - in cities and towns its powers of detection are overwhelmed.
4. It may not mean records of apprehension rates will be exact.
The Border Patrol has in the past been accused of manipulating data to make it seem as though the agency has apprehended more undocumented border-crossers than it really did. Agents say the Patrol sometimes labels subjects "outstanding" - for the next shift to track down and apprehend - instead of putting them down as "gotaways".
Follow more on immigration at @thefielperro.
© 2023 Latin Times. All rights reserved. Do not reproduce without permission.