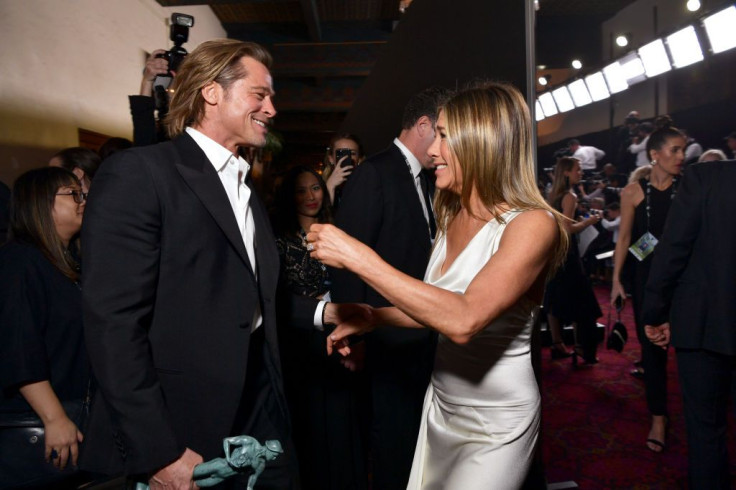 Let's face it: Everyone (quite literally) is hoping for ex-partners Brad Pitt and Jennifer Aniston to get back together. So much so, the tender moments shared by Pitt and Aniston at the SAG Awards 2020 made millions gush over how it would be perfect to see them re-coupling again.
While haters might probably brush it off as two accomplished people merely exchanging pleasantries; Emma McIntyre, the photographer, who snapped Brad holding Jennifer's wrist, revealed the two "genuinely seemed happy to see one another". Recollecting the moments, which made our hearts flutter, McIntyre said, "He called out "Aniston!" and she turned around and they embraced and congratulated each other." During their run-in, Pitt can be seen gently grabbing Aniston's wrist, while she touched his chest. The moment melted the hearts of millions world over.
But McIntyre also added that there wasn't much to read into it, more than two people who genuinely seemed happy about each other's success. The rapport could also be attributed to the fact that Pitt and Aniston have known each other for over 20 years. The camaraderie didn't go unnoticed all through the awards night— Aniston was spotted chuckling away as Pitt quipped about his love life and even being on Tinder.
Yet, the photog admitted that she was counting her lucky stars to have been able to get the shot, as it's usually very challenging to capture a clean frame amid the bustle at such events. Aniston walked away with her own SAG for her role in "The Morning Show", and clinched the Best Actress award in a Drama Series prize.
Well, aside from the warm greetings, nobody could miss the biggest highlight: Pitt stopping to watch his ex-wife's big moment backstage. (Um, yes, it happened!)
Pitt seemed to be grinning from ear to ear as she accepted her award until moments later the ex-couple crossed paths backstage.
Needless to say, Netizens went into a tizzy, jumping into conclusions they wish were true. Well, Aniston decided to be a bit of a tease and released another wild post On Monday, Jen when she shared two snaps of herself before and after her Best Actress win.
The second image flaunted her award and the vintage Dior dress she wore to the ceremony on the edge of her bathtub—with her stilettoes kicked strewn on the floor. And, well, fans came up with the best theory ever: Brad "took that dress off!"
© 2023 Latin Times. All rights reserved. Do not reproduce without permission.